WOOF, does your Yorkie have a collapsed trachea like me? As a senior Yorkie who was first diagnosed with a collapsed trachea in 2016, I've been battling this predisposed respiratory condition off and on, with the most recent battle that brought me into the ER on Christmas week. But don't worry – the strong alpha male in me made sure I would be back home just in time for Christmas, and I did! WOOF-HOO!
Any-HOWL, I'm guessing you're here to sniff out collapsed trachea in Yorkies – perhaps your Yorkie just got diagnosed or is suffering from the condition, OR you're simply interested in what happened to me. Now that my cough is under control again, I'm wagging to bark out all my experiences as a Yorkie with a collapsed trachea – from the very beginning until now! 
Just a BARK OF DISCLAIMER that my humans and I are NOT veterinarians, and this post is solely based on personal experiences and research. Please always consult a veterinarian for a proper diagnosis and treatment plan. As all dogs are individuals, what has worked for me may not work for your dog.
*Please note that this post contains affiliate links, and at no obligation or additional cost to you, my humans and I earn a small commission if you make a purchase. If you love the work that we do, you can show your support by making a purchase through an affiliate link. Proceeds will go towards feeding homeless dogs (and cats) along with improving the lives of the neglected and abused.
ARF, first bark first, let's start with the trachea. The trachea is described as the "windpipe" or tube connecting the throat to the lungs with small cartilage rings along the tracheal wall. In dogs, the rings cover roughly 80% of the perimeter with an ultra-thin tissue completing the circle. When the trachea has "collapsed," the cartilage rings lose strength and flatten, essentially making it difficult for air to get to the lungs.
Many veterinarians describe this condition as trying to breathe through a straw. Can you imagine that??? 🙁 This results in bouts of a "goose-honk" dry cough, the single most recognizable early symptom of the collapse. The harsh cough may be exacerbated by excitement, stress, strenuous physical activity, obesity, hot and humid weather, and environmental pollutants (like second-hand smoke). Clinical signs are generally seen in middle-aged to senior dogs, starting from age 4.
Sadly, Yorkies are genetically predisposed to tracheal collapse along with Chihuahuas, Pomeranians, and Toy Poodles. Even if you suspect that your dog is suffering from a collapsed trachea, there is no way to confirm unless a veterinarian makes a diagnosis, which typically involves a chest x-ray (as in my case). Bronchoscopy (a moving tube x-ray) may also be suggested, but it is more evasive and requires anesthesia.
When my furever pawrents first adopted me in 2015, they noticed that I had a strange cough, which would hit me for a minute or so one day and then disappear for the days or even weeks following. However, my veterinarian in San Francisco didn't seem too concerned about my cough, which was very infrequent at the time. He thought that my humans were describing a reverse sneeze, which is caused by an irritant and usually deemed harmless.
2016: My Diagnosis
Over a year later in Los Angeles, my cough started up one day. A visit to a veterinary specialist hospital in West Hollywood concluded with a collapsed trachea diagnosis (as supported by a chest x-ray). Even though my exact age remains unknown, different veterinarians hypothesized at roughly 5 to 7 at the time, coinciding with the typical age range for diagnosis. The doctor explained that many Yorkies are born with this condition, and the only way to correct it is with surgery which can come with complications. The good news is that most dogs won't need surgery and will respond well to medical treatment. Nonetheless, a collapsed trachea is a chronic condition that worsens with age.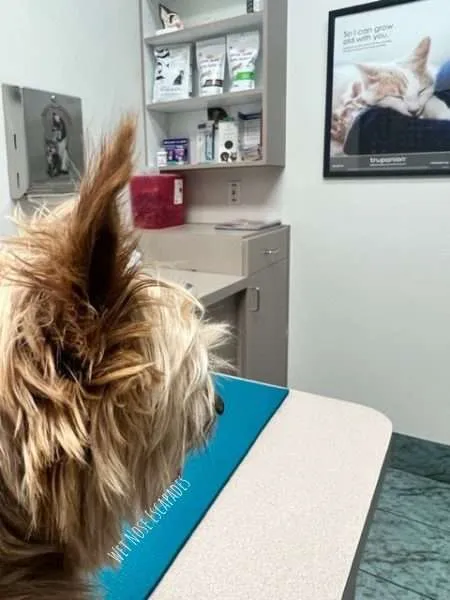 Any-HOWL, I was sent home with Hydrocodone tablets to control the cough. For those who don't know, Hydrocodone is a potent drug with pain-relieving qualities. With similar properties to morphine, it's an opioid with a high risk of addiction and abuse in humans. For dogs, Hydrocodone is used as an off-label drug to treat both pain and cough (antitussive) by working on receptors within the brain. The most common side effect is sedation, constipation, decreased appetite, and vomiting. As for me, it was just sedation. As a controlled substance, this drug is also not easy to obtain. Unless the veterinary hospital has the authority to dispense it, the pharmacy must follow strict rules for handling and dispense.
Recognizing how powerful Hydrocodone is, my humans did not want me to take something that may cause dependency unless I must succumb to it. Luckily, arf-ter taking only two doses, my cough vanished! Even though my humans kept the pills for emergencies, I never had to take another one until years later (keep sniffing below). Eventually, they had to toss out that first bottle due to its expiration date.
For the next few years, my cough was almost nonexistent except occasionally when I got supaw excited (e.g. other alpha male dogs) or supaw stressed (e.g. getting examined by the vet staff). Since the beginning of my adoption (even well before my diagnosis), I wore a choke-free harness which is the easiest (and cheapest) thing any pawrent can do to help alleviate some of the symptoms. My favorite one is this blue mesh harness from Gooby, designed with a choke-free X frame that offers great comfort. I like to get it one size up, so it's a little loose and easy on my neck and shoulders.
2019: An Itchy Flare-Up
At the end of 2019 (over three years arf-ter my diagnosis), I was in Los Angeles (again) for the holidays. For some reason, I started having itching attacks that led me to rub my head all over, which, in turn, triggered a nasty cough. When I returned to the same veterinary specialist hospital, I was given a Cytopoint injection to stop the itch, and prescribed Prednisone (a steroid to reduce inflammation), Doxycycline (antibiotics to battle the infection), and Butorphanol (another opioid to treat the cough).
Although Cytopoint helped stop the itch, my cough didn't improve much. During a follow-up phone call, my doctor subsequently advised to end the treatment program immediately if no improvement was noted. I later returned to the hospital and saw a different veterinarian who prescribed Hydrocodone. Fortunately, I did NOT have to use it. The strangest thing was that my cough miraculously disappeared – as soon as I left Los Angeles. Perhaps it was just the poor LA air quality.
2019-2022: 2 Minor & 3 Major Flare-Ups
From the end of 2019 until the end of 2022 (three years), I only experienced four brief periods when my coughing attacks returned – 2 minor and 3 major flare-ups, including my most recent attack.
First & Second Flare-Ups: Mild AND Quickly Vanished
The first flare-up during this time frame occurred for a few days in Barcelona, Spain, but miraculously disappeared (once again) as soon as we moved to a different hotel. Hence, it leads my humans to believe that a lot has to do with external factors (such as air quality or cleaning agents).
Nine months later, I had my second minor flare-up. My cough returned – it was mild, but quite persistent. A neighborhood veterinarian in Barcelona recommended a cough supplement syrup called Tusheel. This syrup is a compound of 7 plants and 2 vitamins (thyme, honey, aloe, elderberry, mallow, eucalyptus, propolis and vitamins A and E. Upon the first dose, my cough dramatically improved! For a long time, I continued to take the supplement as needed. Since this product is not yet available in the States, my human stocked up a couple bottles right before we departed. I'm currently on my last bottle.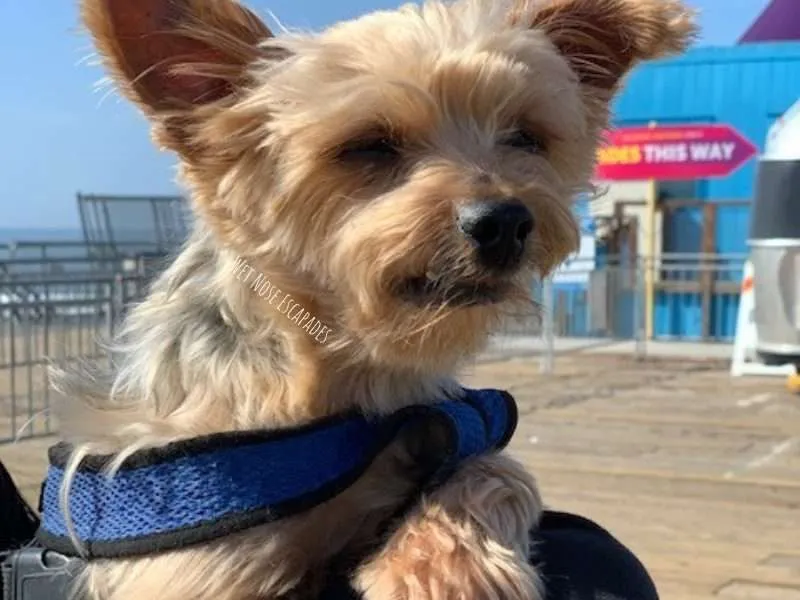 Third Flare-Up: More Frequent, BUT Short-Lived
My third flare-up occurred when I was living in NYC. It took a little longer to settle as Tusheel lost its luster (unfortunately). At first, my doctor on the Upper East Side pushed for Hydrocodone, but my humans asked if there was something else I could try that doesn't have such strong side effects. She subsequently prescribed some cough tablets that did absolutely nothing, BUT then she asked me to try an anti-nausea drug called Cerenia.
Cerenia is the only FDA-approved anti-nausea drug for dogs but is often prescribed for off-label use to control cough caused by collapsed trachea. Studies on cough treatment are limited, with success stories as anecdotal. The main ingredient is maropitant citrate, which possesses pain-relieving, anti-inflammatory, and anxiety-reducing properties. Cerenia blocks the effects of the substance p, which involves vomiting and coughing. Not to bark, it can also help decrease the inflammation of the airways.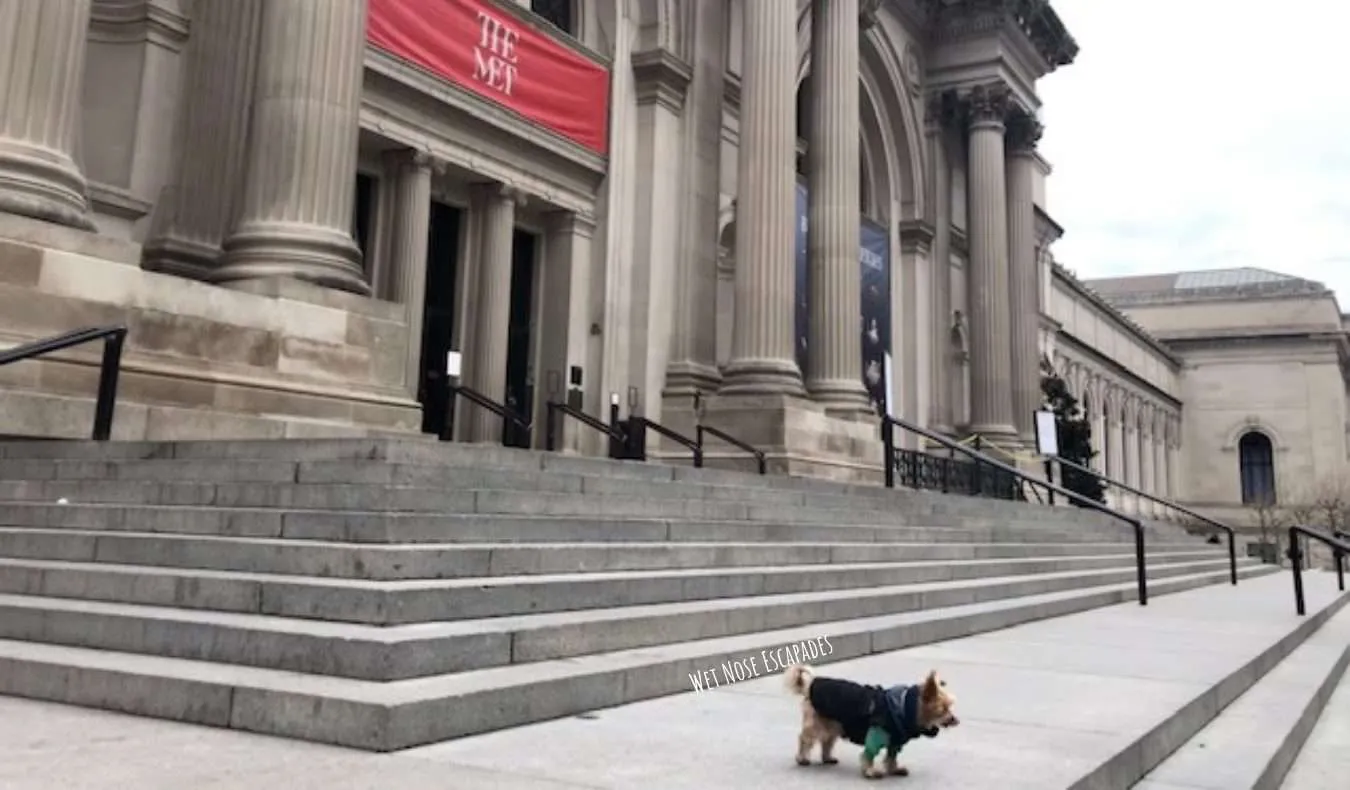 WOOF, it worked! While my cough didn't disappear entirely, it was well-controlled. And, I only took Cerenia on an as-needed basis – usually 3 or 4 doses per month (each pill was supposed to last 48 hours, as initially prescribed by my veterinarian). Cerenia is no miracle drug, but it helped control my cough for a good year and a half. And yet, there were months that I went on without taking Cerenia or anything for my cough. Usually, I would start with Tusheel and resort to Cerenia if my cough worsened.
One time I went to the vet for my rabies booster, and I became so stressed that I started coughing. The veterinarian recommended glucosamine supplements from NutraMax to help rebuild my tracheal cartilage. Although animal studies are limited, glucosamine with chondroitin may help rebuild cartilage in joints and the trachea. Glucosamine hydrochloride is an amino sugar found naturally in the body that stimulates the growth of cartilage cells. Chondroitin is a sulfated glycosaminoglycan that helps keep cartilage healthy and blocks the enzymes that break down cartilage. Since her recommendation, I started taking these chews almost daily, usually a quarter as a tasty treat. YUM!
A bark of caution: I recently discovered that NutraMax doesn't recommend breaking apart the chews due to the potential uneven distribution of ingredients (unless your dog eats the entire chew for the day). For dogs under 10 pounds, chewable tablets are recommended. I have yet to try these.
Fourth Flare-Up: More Serious, BUT Also Short-Lived
My fourth flare-up was more complicated, but thankfully short-lived as well. This time, I could no longer escape Hydrocodone (with my last intake over six years ago). I was visiting my human #2's family in Los Angeles for a month, and all was well until at the end of my stay. One night, I started coughing and couldn't stop for an hour. Tusheel and Cerenia were both ineffective. In the morning, my human contacted my veterinarian who prescribed an over-the-counter cough syrup – Delsym, which did arf-solutely nothing for me! She then instructed me to try Hydrocodone, which I had no choice because I couldn't stop coughing for up to an hour. Shockingly, Hydrocodone only made a small difference, and my cough was still frequent.
My humans were hoping that the change of scenery could do the trick like last time. Much to their dismay, my cough continued arf-ter leaving Los Angeles. The next day, I reluctantly went to see my veterinarian. Upon first glance, she advised me to take Hydrocodone with Cerenia for an additive effect to help my cough. When she conducted a physical examination, she triggered a cough by pressing my trachea and then listened to my lungs and heart.
While my heart sounded fine, she heard something in my left lung, a potential indication of pneumonia. In minutes, I was taken back for an x-ray (GRRR). My humans agreed to pay an additional $100 (on top of the standard $100 report fee) for a state board radiologist to evaluate within 2 hours. Within an hour, we received the report indicating mild bronchitis and "severe" tracheal collapse.
Thankfully, I did NOT have pneumonia! However, I would still need to undergo an aggressive treatment program for the next two weeks consisting of oral steroids to reduce the inflammation (Prednisone) and antibiotics to clear the infection (Doxycycline). That's on top of Hydrocodone and Cerenia, which I should continue taking. Even though my humans were weary about me taking oral steroids, my doctor assured us that short-term use is safe and necessary. Side effects for short-term use are extremely noticeable – increased thirst, hunger, panting, and agitation but they are supposed to vanish once I stop taking it.
Long-term use, on the other paw, can lead to serious adverse effects, including but not limited to liver enzyme elevation, muscle weakness, Cushing's disease, and low thyroid function. Yet long-term only means 3-4 months! My doctor also recommended an Adequan injection (Polysulfated glycosaminoglycan) to help rebuild my tracheal cartilage. I got the starter injection at the hospital, and my humans were to continue the injections at home when the shipment arrived.
The treatment program worked instantaneously, and I was already back to my Yorkie self within the first few days. WOOF-HOO! Although I recovered quickly from this flare-up, I still needed to complete the course of antibiotics. Plus, Prednisone must be tapered down as it can lead to serious consequences if stopped abruptly.
Latest Flare-Up: The "RUFF-EST" Battle to Date
So, this takes us to my most recent flare-up in December 2022, and has been my "ruff-est" battle to date. Arf-ter almost two months living it up in Rio de Janeiro, my cough returned with a vengeance. This time, NOTHING worked. Not even Hydrocodone with Cerenia! My cough became harsher and harsher, more and more frequent. My humans would consistently check my tongue to ensure it didn't turn purple or blue, as instructed by various doctors. A purple or blue tongue would imply a lack of enough oxygen, a life-threatening emergency that needs immediate veterinarian attention.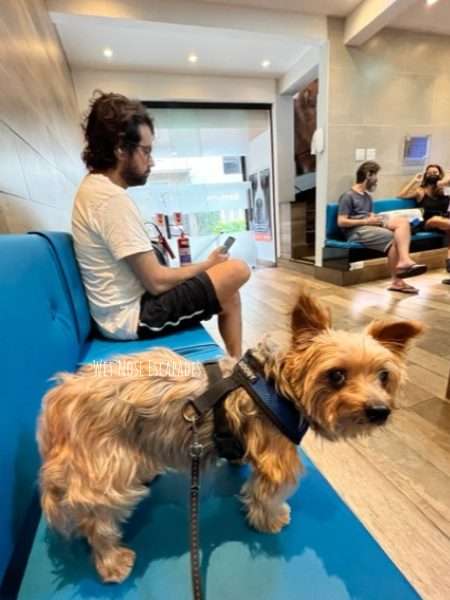 My veterinarian back home instructed my humans to bring Prednisone back in the mix to help control the inflammation. Seeing how much I was suffering, they conceded. Arf-ter two weeks of implementing the treatment plan that my doctor had suggested, my cough was still not getting better. One time, my cough went on and off for more than 3 hours – even though my tongue was still pink and healthy, my humans couldn't bear to see me suffer any longer.
That morning, I went to the ER for help and was given a Prednisone injection to stop the inflammation and a Seretide inhaler to open the airway. I hacked loudly as the staff took x-rays, which, once again, confirmed that I had a "major collapse." Next, I met with a pulmonologist who created a new treatment plan for me – antibiotics (Doxycycline), an inhaled steroid to decrease inflammation (Fluticasone Propionate, which has less systemic side effects compared to oral steroids), a mucus thinner (Acetylcysteine), and more oral Prednisone.
However, the pulmonologist did NOT want me to take any cough suppressant (like Hydrocodone or his prescription of Codeine, which is structurally similar to Hydrocodone but less potent) for the first 5 days while I was on a full dose of Prednisone. Yet my humans believed that the lack of cough suppressant in his treatment plan led to my quick deterioration. Even though the hospital quickly discharged me arf-ter only a few hours, I still couldn't get my cough under control for the next few days.
My cough got worse and worse, harsher and harsher. One night, I felt more agitated than ever (likely from the Prednisone) and couldn't relax, pacing back and forth while coughing continuously. Even though my tongue was still pink, it was obvious that I was suffering more than ever. My pulmonologist advised me to return to the hospital for Butorphanol injections to break the cough cycle. He also wanted me to stay for at least 24 hours so the staff could monitor my condition.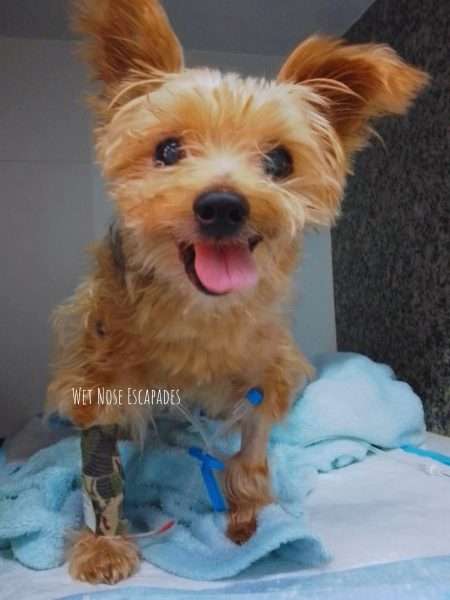 Despite being confined to a cage, the Butorphanol treatment did stop my cough (at least temporarily). I received an injection once every 8 hours and slept like a baby (which was one of the side effects). The ER doctor frequently updated my humans – I was coughing upon admission but started relaxing arf-ter my first injection. Then I only had a few mild attacks. I also had a great appetite and enjoyed their "pasty" food. My human then asked if the food was low-fat because I've been on a strict low-fat diet, and she reassured her that the food was, indeed, for a gastrointestinal diet.
They discharged me after 24 hours and said I was good to go home. They did note that I seemed "gasey" and wrote a prescription for anti-gas pills for me. Unfortunately, upon arrival at the hospital, my humans could hear me huffing and puffing upstairs. 🙁 There was some improvement, but my cough was still harsh and frequent. At that point, my humans felt so hopeless. Let's bark it was a LONG night when I got home. The next morning, I cut my morning walk supaw short and headed back home, which my humans thought was odd but assumed I was tired from the hospitalization. They went out briefly to fill my prescription since the pharmacy was already closed when I was discharged. When they returned home in an hour, they found me in severe pain.
I was barely coughing – I felt so much pain that I could barely even move.
My humans rushed me back to the ER – less than 15 hours after my discharge. From my ultrasound and bloodwork, they diagnosed me with pancreatitis – an inflammatory reaction within the pancreas resulting in abdominal pain, inappetence, and vomiting. Not only was my pancreas infected, but also my liver and gallbladder. ARF-MY-DOG!!! GRRR. My humans suspected it was the "pasty" food given to me during my hospitalization since the ultrasound report mentioned it several times.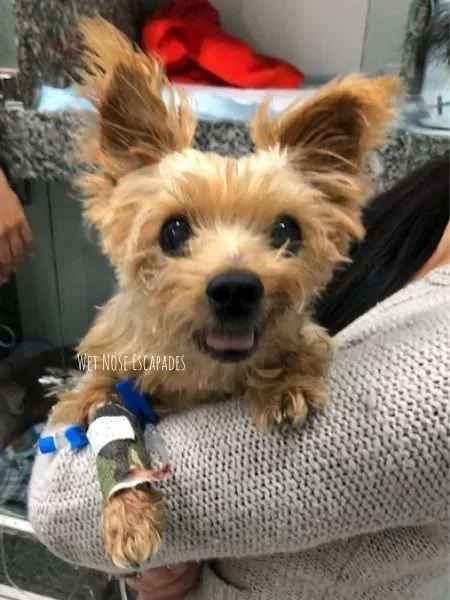 Not to bark, I had done blood work right before my 24-hour hospitalization, and everything was normal. However, the veterinarians were quick to deny that any part of their hospitalization treatment had anything to do with it. The onset was so rapid that it was difficult for my humans to believe it wasn't related. BUT, at this time, it was useless to point the claw – I needed them to get me out of the crisis. Now, I had two serious issues – pancreatitis AND collapsed trachea. GRRR.
On Christmas week, I stayed in the hospital for 3 nights/4 days in addition to the initial 24-hours. They gave me two types of antibiotics (Baytril oral pill and Ceftriaxone injection) to combat the infection plus pain reliever and anti-vomiting meds. PLUS Butorphanol injections and Seretide inhaler on an as needed basis to control my cough. I think I had four Butorphanol injections total during this hospitalization, which wasn't bad, relatively barking.
My clinical signs quickly improved on the same day of admission; I was alert, eating, and walking around just fine (the little time I got out of my cage). Nevertheless, my veterinarians wanted to see improvement in my blood work first before discharge. Yes, it's doctors – plural because by this time, I had a team of 5 doctors monitoring my progress, including two specialists. No joke!
The next day, my blood work was worse than the day before and almost gave my sleepless humans a heart attack. My doctors told them not to worry and explained that it takes time for my body to respond to the antibiotics. Luckily, my numbers slowly turned around on the third day and fourth days. When I got discharged, I looked like my old self. Plus, I wasn't coughing right off the bat like I did the first time, which was a huge relief.
When I got home, I would still need to finish up the course of two antibiotics and continue the treatment plan to control my cough. As for symptoms of pancreatitis, they completely vanished. But my cough was still present, and the doctors kept emphasizing how surgery may be the next option. In the first few days arf-ter discharge, my cough was still frequent despite being slightly better (in terms of the harshness). I still coughed throughout the night as I did right before my hospitalization. At this point, my humans seriously thought there was no way around surgery.
Then a miracle happened.
Or at least, it felt like one. In the next few days, my cough dramatically improved. I barely coughed, and when I did, the bouts were mild and ended quickly. My human had been paying for phone consultations with my doctor back home so she could review everything the Brazilian vets did. My doctor suggested starting up Adequan (Polysulfated glycosaminoglycan) injections. I had only gotten a starter shot when I last saw her because my humans were weary about injecting me themselves. Arf-ter all, the prescription calls for 8 injections in 4 weeks, followed by monthly maintenance injections.
Instead of injecting me with Adequan, my human increased the dosage of my glucosamine supplemental chew (under my doctor's approval) to help rebuild the cartilage in my trachea. Again, I only took a quarter chew before, but now I take a half chew daily (which is still safe for my weight). I also went back to my Tusheel supplement and Cerenia. What I did keep from my pulmonologist are the Seretide (Fluticasone propionate/Salmeterol) and Albuterol (rescue) inhalers, which my humans use the AeroDawg chamber to administer on me (which I HATE, at least initially).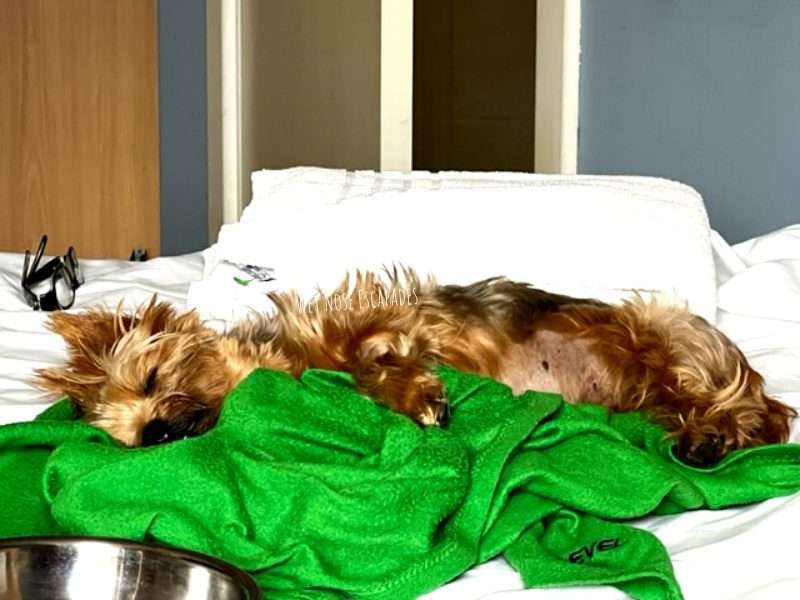 To ensure that I am breathing the cleanest air PAWsible inside, my humans also have air purifiers running throughout the day. They also bought a small portable one I can conveniently use on the go. As for the outdoor air, they religiously check for air quality on the AirVisual app before taking me out. And, as usual, they avoid taking me outside when it's hot, and they keep me on a low-fat diet to maintain a healthy figure (which would put less pressure on the trachea). I'm not sure what exactly did the trick, but I'm ecstatic to bark that my cough is now back to being well under control. ARF yeah, I have not needed to take Hydrocodone either (although my human has it handy) – CLAWS CROSSED that I continue to do well.
As for now, it doesn't look like I'll need to try Adequan anytime soon, but who knows when my next flare-up will be. I continue to stay ready for battle. My humans also ordered Throat Gold, a respiratory supplement that my doctor gave the green light on (although she doesn't think it'll help, she doesn't think it'll hurt either). Sniff here for my honest review of Throat Gold.
While my doctor has already referred me to a specialist for potential stent surgery, my humans are praying that I won't need to take that route. However, they are not opposed to it if it can provide a better quality of life for me, but they would need to discuss with the surgeon to get more information on potential risks and complications. From what they know, I will likely need to be on meds for the rest of my life even arf-ter a successful surgery. Therefore, they hope my cough remains infrequent and mild through medical and lifestyle management.
Even though Yorkies are predisposed to tracheal collapse, there are a lot of things you can do as the pawrent:
-Keep hope alive! Even when it feels like things are coming to an end, don't give up – just yet. Always get a second or even a third opinion; veterinarians are not made equal – they come from different training backgrounds and experience levels. Because every Yorkie may respond differently to treatment, it's a matter of finding the right one for your Yorkie.
-During a coughing bout, check the color of your Yorkie's tongue! If his tongue turns blue or purple, rush him to the nearest emergency animal hospital.
-Don't try any medicine, supplements, vitamins, or remedies (even if they're "natural") WITHOUT consulting with a veterinarian! Drugs and supplements have the potential to interact with each other.
-Always walk your Yorkie using a choke-free harness. Get your furry paws on my favorite one HERE!
-Keep your Yorkie at a healthy weight to avoid putting pressure on the trachea.
-Don't expose your Yorkie to hot and humid weather and poor outdoor air quality. If your Yorkie only does his business outside like me, limit the exposure time and the amount of energy exerted.
-Create a clean air environment for your Yorkie. You should NEVER expose your Yorkie to second-hand smoke, construction, perfume, cleaning chemicals, mold, etc. Keep your home clean and dust-free as much as PAWsible. Use an air purifier, if necessary. If you live in a dry climate, you may want to get a humidifier to help your Yorkie breathe easier. Ask your veterinarian for advice.
-Study your Yorkie carefully! If his cough is on the mild side, think about what has worked to stop his cough, even temporarily. When does he cough less? What triggers his cough? Then, strategically use that information to create a lifestyle that can help him. If you're away at work during the day, get Furbocam to keep an eye on your Yorkie and obtain the necessary data.
As for me, the sight of food, licking (anything), walking or being out and about (stimulation), and even traveling (sleep during in-cabin flights) have helped decrease or even stop my cough temporarily. On the other paw, meeting another alpha dog, eating too fast, and seeing both of my humans return home together (overly excited) could trigger a coughing episode.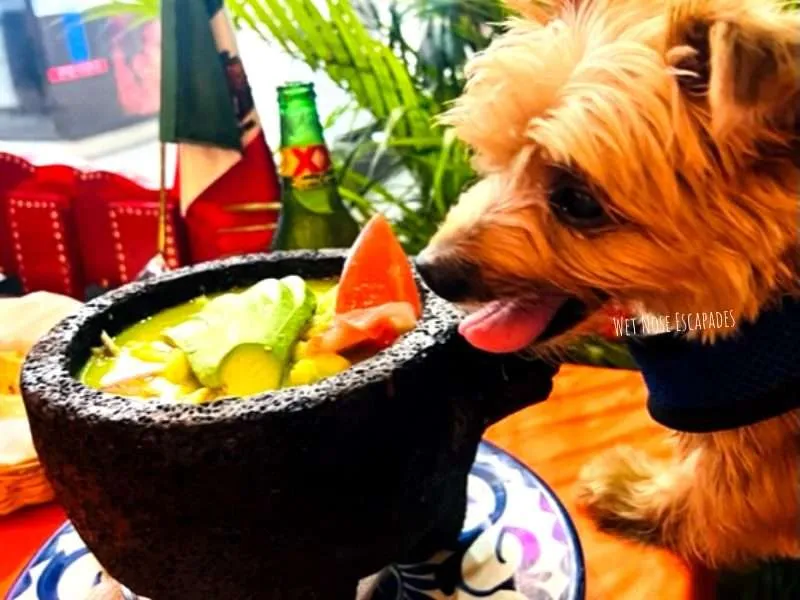 -Join the Dogs with Collapsed Trachea Support and Discussion Group on Facebook. You can connect with other pawrents with dogs suffering from the collapsed trachea. But please do NOT follow someone else's medical treatment program without consulting a veterinarian – remember, every dog (and even every Yorkie) is different!
ARF, that's all I got for now! I'll continue to make updates as I continue this uphill battle with a collapsed trachea. GRRR, I am determined to win this war!
Markin' it up,
Roger Wellington a.k.a. The Doob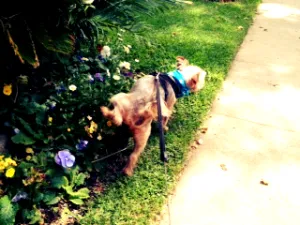 –
Like my post on "A Yorkie's Long Battle with Collapsed Trachea"? CLICK TO PIN!