ARF, ARF! An American Yorkie in quarantine in Spain? Continue reading to sniff ME out…
I'm grateful to BARK OUT that I'm still surviving as an American Yorkie in Spain's nationwide lockdown, which went into full effect as of March 14, 2020. During the period of Lockdown Days 11 to 18 (respectively, Tuesday, March 24, 2020, thru Tuesday, March 31, 2020), Spain made some scary international headlines – one, exceeding the number of reported deaths in China on Day 12 and two, exceeding the number of reported total infections in China on Day 16. Sadly, coronavirus (COVID-19) continues to shake the entire nation and around the world (over 1.2 million cases worldwide, as of April 4, 2020) with my home country, the United States of America, leading the pandemic with over 310,000 cases. 
In Barcelona, the ambulance is no longer an abnormal sight around my neighborhood. On three separate occasions, I saw cops rolling into a nearby park and ordering humans and their dogs to leave. While most people complied, an older man refused to leave, arguing that he was maintaining social distancing with his dog. As a social and athletic dog, I am still missing my long, investigative walks and playtime at the park. However, I support tighter restrictions if they save human lives. After all, dogs (and cats) will inevitably suffer if anything happens to their humans. Being in lockdown is tough for both humans and dogs, but I'm reminded every night at 8 pm that healthcare workers worldwide are making the ULTIMATE sacrifice for being in the frontline of this war against coronavirus (COVID-19). It breaks my little Yorkie heart that our heroes are often sent to battle without proper protection and equipment due to dwindling supply. 🙁
As I have finally adjusted to less socializing and shorter walks by Day 18, I'm making the best of my time at home. From uncovering "hidden" treats to working as my human's personal trainer to being fed homecooked meals, I managed to survive another 8 days in quarantine in Barcelona, Spain. Watch my video below to find out exactly what I've been doing!
If you want to see what I did before Lockdown Day 11, sniff out My First Five Days of Lockdown and Lockdown Days 6 to 10.
Press "PLAY" with your furry (or greasy) paw below to watch an American Yorkie in quarantine in Spain:
If you are looking for ways to stay busy with your dog during a lockdown, watch my fabulous tutorial HERE! And, don't forget to take up my very special treat for dogs who have been wanting to train their humans properly. 
Please continue to be safe. My prayers are with everyone around the world, especially my fellow Americans and friends in Europe. May your health be with you.
Markin' it up,
Roger Wellington a.k.a. The Doob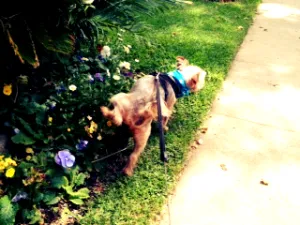 Like my post "American Yorkie in quarantine in Spain: Lockdown Days 11 to 18"? PIN IT!