WOOF, is Zagreb, Croatia is dog-friendly? Are you visiting Zagreb with your dog? Keep on sniffing!
As a former furry Croatian transplant, Croatia holds a special place in my little BIG Yorkie heart. After markin' up the stunning castletown of Dubrovnik twice in the last few years, I set my furry paws northwest to the buzzing capital city of Zagreb. Composing a quarter of the country's population, Zagreb is the largest city with history and relevance dating back to Roman times and former Yugoslavia era. Since I've always been a city boy, Zagreb seems right up my alley. Unlike Game of Thrones-famed Dubrovnik, Zagreb is almost free of tourist buses and feels like a real city with impressive urban parks, local bars, laid-back cafes, and festive community events. ARF, let me just bark that the summer scene here is CRAZY! From movie nights at the park to outdoor concerts, Zagreb is the place to sniff and be sniffed. So, is Zagreb dog-friendly? Heck YEAH! The dog-friendly culture is utterly bark-worthy, which makes visiting Zagreb with your dog stress-free and fun.  
*Please note that this post contains
affiliate links
, and at no obligation or additional cost to you, my humans and I earn a small commission if you make a purchase. If you love the work that we do, you can show your support by making a purchase through an affiliate link. Proceeds will go towards
feeding homeless dogs (and cats) along with improving the lives of the neglected and abused
.
Sniff out a Yorkie's guide to visiting dog-friendly Zagreb, Croatia:
DOG-FRIENDLY RESTAURANTS 
Whether you choose to dine indoors or outdoors, you should NOT have any problem eating out with your dog. However, when in doubt, politely ask the waiter or waitress. The good news is that most Croatians are dog lovers. As a small furry diner with a BIG appetite, I've never encountered any nasty glares or interrogation when walking my paws into a restaurant with my humans. Since most locals prefer eating at home (mainly due to costs), I found more drinking establishments than restaurants throughout the city. For better restaurant options, I've gotten better luck in the city center – Gornji Grad (Upper Town) and Donji Grad (Lower Town). In the bordering Maksimir, my wet nose also sniffed out lots of yummy eats, from cheap casual spots to mid-range and higher-end restaurants. From gigantic veggie burritos (Pani: Maksimirska Cesta 66) to traditional Croatian octopus, Maksimir offers many chops-licking places to fill up my little Yorkie belly. 
Get my 8 tips on how to dine with your dog!
DOG-FRIENDLY BARS 
With a high production of domestic beers in the country, it's hard not to get a lick of some Croatian beer when you visit. (Well, of course, for you – not your dog! Don't forget to pack a bottle of fresh water and a to-go bowl for your dog :)).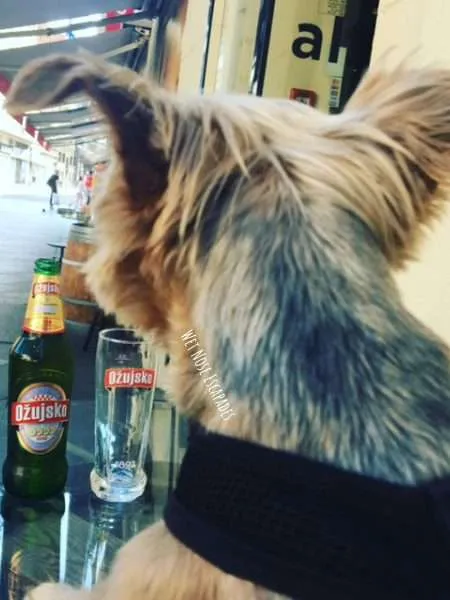 From Ožujsko to Pan, the beer culture in Croatia is no joke! Like I barked out earlier, the locals are more likely to go out to drink than to eat. Yet, it makes perfect sense – the beer culture is so rich in Croatia that half of the adult population are beer drinkers. Getting drinks with your dog in Zagreb is easy and fun – as long as you don't choose crowded or loud venues. Like restaurants, dogs can usually hang out either indoors or outdoors. BUT, since I visited over the summer, I chilled mostly outside where I could keep a vigilant eye on those Croatian dogs. Nonetheless, it was so refreshing not to only to seek the ones with outdoor seating. Whether day or night, the bars in Zagreb are happening places. After a nice long walk, I like to rest my paws on a human chair while my human enjoys a glass of ice-cold Ožujsko, which is the most popular beer in Croatia and produced locally in Zagreb. 
Other Croatian beers to take a sip: Osječko (the oldest Croatian beer), Karlovačko (the national beer of the country), Laško, Tomislav, Velebitsko, and Tars. However, don't get stuck on the commercial Croatian beer brands – craft beers are becoming increasingly popular with hipster bars on the street of Opatovina, which is unofficially called the "beer street" in Zagreb. 
25 Tips on How to Fly with Your Senior Dog!
DOG-FRIENDLY CAFES
Just as the Croatians are big on beers, they're just as BIG on coffee! The top dog cool street of Tkalčićeva (stretching from Trg Petra Preradovića in Upper Town to Bogovićeva in Lower Town) is a pedestrian-friendly road known for sidewalk coffee shops and bars. Like restaurants and bars, dogs are allowed to mingle with their humans inside cafes. 
Watch me conquer Dubrovnik a.k.a. the Pearl of the Adriatic!
DOG-FRIENDLY PARKS
WOOF, Zagreb's thirty-plus city's public parks are not just pawsome places to take a stroll with your dog, but they are also prime locations for socializing. In the summer, these parks are often transformed into playgrounds for the youth – from dusk until dawn. You'll find numerous small groups of 20 to 30 something-year-olds laughing over Ožujskos and barbeque chips – many with dogs by their side (well, that is if their dogs aren't chasing other furry butts nearby). Besides informal gatherings, the city throws exciting FREE events for the public. During my two-week stay over the summer, I went to three events at three different parks – all of which allowed dogs. From food festivals to music performances to Christmas markets (in the winter), Zagreb's parks serve as dynamic gathering places for humans and dogs.  
Sniff out some of my stomping grounds in dog-friendly Zagreb, Croatia: 
Lenuci Horseshoe (Zelena Potkova): If your time is limited in Zagreb, you MUST take your dog to Lenuci Horseshoe! Conveniently located in the city center at Donji Grad, this is a marvelous complex of seven green square parks creating a horseshoe U-shape. From botanical gardens to stunning massive fountains to statues honoring prominent Croatian (Josipa Jurja Strossmayera, King Tomislav, etc.), Lenuci Horseshoe is ARF-so-charming to bark the least.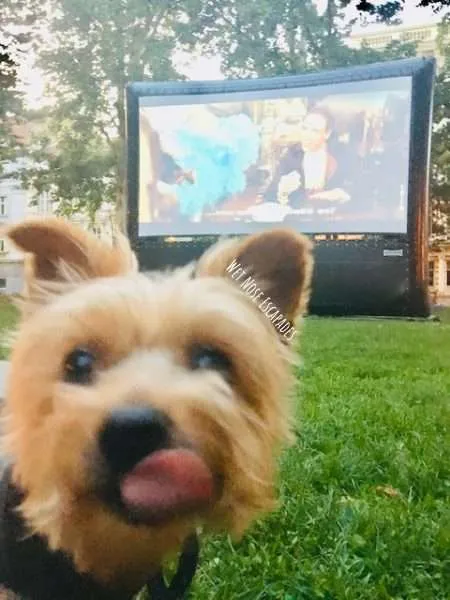 At Park Zrinjevac, my humans and I delighted ourselves to a starry movie night featuring Amadeus, the classic movie about Mozart's life. Right below Park Zrinjevac, Park JJ Strossmayera famously hosts annual festive Christmas markets during the winter as well as food festivals over the summer. South of Park JJ Strossmayera lies King Tomislav Square, where I perked up my ears weeklong to dreamy live classical concerts (and don't worry, I sat far enough from the speakers. :)). And yet, despite all the greenery, Lenuci Horseshoe is also home to art galleries and distinguished museums. 
Maksimir Park – As the oldest and largest park in the city, Maksimir is a renowned urban park dating back to the 18th Century. Resting in the eastern central part of Zagreb, this dog-friendly 780-acre park makes for perfect afternoon picnics and daytime strolls through the forest and along the small lakes with your furry companion. And yes, the trails are also dog-friendly! Just do me a favor – please SKIP the zoo.  
Ribnjak Park – In the western part of the Ribnjak neighborhood (in Gornji Grad), Ribnjak Park is situated next to the famed neo-Gothic Zagreb Cathedral. Since Ribnjak is not as popular as the parks barked above, I found it to be more of a local dog-friendly hangout with plenty of Zagreb's dogs sniffing and marking it up (GRR – I'm the BOSS). It's also home to Kaptol Art Park, a relatively new open-gallery walkway overlooking the city.  
Learn how to take your dog to the Greek Islands!
MUST-VISIT DOG-FRIENDLY NEIGHBORHOODS 
Gornji Grad-Medveščak (Uptown)
The Uptown district of Gornji Grad-Medveščak comprises a whopping sixteen different neighborhoods! While you may not have time to explore all sixteen, Gornji Grad is a MUST-SNIFF. Resting on Grič hill, Gornji Grad (Gradec) makes up the medieval part of the city along with neighboring Kaptol. As the core of the Gornji Grad-Medveščak district, Gornji Grad is the heart of Zagreb. Tilting my head to St. Mark's Square and Church, I felt quite taken back in time with some of the oldest buildings I've ever sniffed out!
In addition to the centuries-old medieval architecture, I was also intrigued by the bronze statue detailing Zagreb's model city, as sculpted by Damir Mataušić. This 13-square-meter model has over 2500 addresses and 400 structures! Pretty cool, isn't it? 
Also in Upper Town, the outdoor pedestrian plaza Strossmartre is one of my favorite places to mark up. During the summer, this plaza is buzzing with food festivals, live music, and street performances. Without all the festivities, Strossmartre is still an exciting place to roam around with your dog, especially with those sweet views of Lower Town. 
As barked out earlier, the ARF-so-cool Tkalčićeva (stretching from Trg Petra Preradovića to Bogovićeva in Lower Town) is a pedestrian-friendly street known for local sidewalk bars and coffee shops. This area quickly became my go-to street for some people and dog-watching (while my humans sip on coffee and tea). 
Find out what essentials to pack for your dog!
Donji Grad (Lower Town)
Right below Gornji Grad, Donji Grad is Lower Town and also part of the city's central. In addition to the fabulous dog-friendly Lenuci Horseshoe, Donji Grad is not a neighborhood to RUFF it up! It's known for fancy shops, Viennese architecture, art galleries, and museums. And yep, most (or all) shops and boutiques will allow your dog to walk their paws inside unless otherwise indicated by signs. With a plethora of spectacular Austro-Hungarian buildings dating back to the 20th Century, this neighborhood makes a wonderful area to explore with your dog and snap a few selfies for IG. Again, the coffee culture is prominent in Zagreb. You and your dog can get a taste (or sniff) of the Croatian coffee drinking culture on Tkalčićeva, which again stretches to Bogovićeva in Donji Grad. 
DOG-FRIENDLY TOURIST ATTRACTIONS/MUSEUMS
Like in most cities, dogs are generally not allowed inside museums and tourist attractions in Zagreb. Nevertheless, you can still find fascinating places to visit with your dog. Here are a few:
Zagreb 360 – Zagreb 360 is an observation deck on the 16th Floor with a 360-degree view of the city. Since it's an outdoor attraction, dogs are welcome!
Ethnographic Museum – YES, finally a museum that welcomes dogs inside! On the weekends, this Croatian culture museum is dog-friendly from 10 am-1 pm.
Archaeological Museum Bar – The Archaeological Museum boasts exhibits dating back to millions of years ago! Dogs are not allowed inside the museum but are welcome at their bar and garden patio – where I happily fell asleep, as you can see. 🙂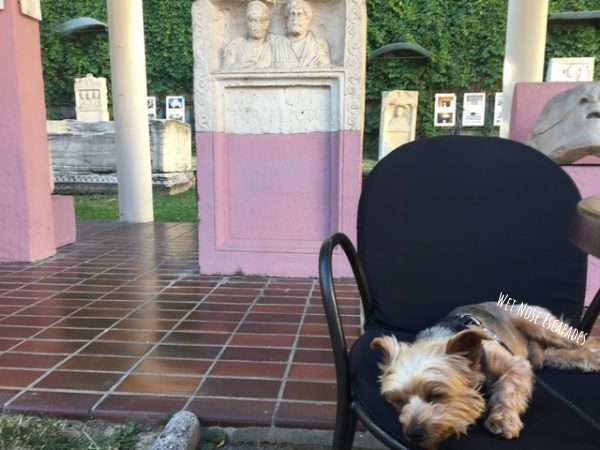 I also heard that the Museum of Broken Relationships is dog-friendly, but I didn't sniff it out myself (I'm not really a museum kind of guy :/). Even if dogs aren't allowed inside a museum, they can still investigate the exterior grounds with their wet noses! 
Grab my 10 favorite healthy dog travel treats
DOG-FRIENDLY TRANSPORTATION
Public Transportation
Per the city's website, small dogs (under 30 cm/11.8 in) in a carrier or "container" can ride for free! For bigger dogs, they must be muzzled with a valid ticket unless they are guide and rehabilitation dogs. It is also instructed that you and your dog get on through the driver's entrance. 
Uber
Of course, any dog-friendly Uber experience ultimately depends on the driver! BUT I'm happy to bark that I've ridden Uber on my human's lap throughout the city without any huffin' and puffin'.
So, is Zagreb, Croatia dog-friendly? You betcha! Let me know how you like visiting Zagreb, Croatia with your dog! 
Don't forget to subscribe to my YouTube Channel: Wet Nose Escapades by Roger Wellington for fun dog travel videos!
Markin' it up, 
Roger Wellington a.k.a. The Doob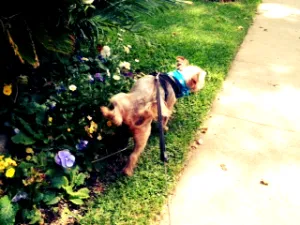 —
Like my post on "Is Zagreb, Croatia Dog-Friendly? A Yorkie's Guide to Visiting Zagreb with a Dog"? CLICK TO PIN!