Looking for the BEST dog-friendly things to do in Half Moon Bay? WOOF, perk up your ears and hear my barks!
Posted 2/27/22
*Please note that this post contains affiliate links, and at no obligation or additional cost to you, my humans and I earn a small commission if you make a purchase. If you love the work that we do, you can show your support by making a purchase through an affiliate link. Proceeds will go towards feeding homeless dogs (and cats) along with improving the lives of the neglected and abused.
*For simplicity purposes, the gender of the word "dog" will be in the masculine form ("he" or "him") throughout this post.
WOOF, let's bark Half Moon Bay! Is Half Moon Bay dog-friendly? ARRRFFF, yeah! As a San Franciscan dog, I wag my tail to know that there are so many dog-friendly destinations within driving distance from the City. From Napa to Monterey to Tahoe, these local escapades keep mey wet nose busy whenever I'm not traveling abroad or out of state. ARF-ter all, you can be a tourist anywhere, including your hometown. Luckily, my humans never have to drive too far for a change of scenery. Just a 30 mile drive south of the City, Half Moon Bay is a delightful pawty place for dogs. Whether you're looking for a quick day trip or weekend getaway with your dog, you can do no wrong taking your dog to HMB. Although it almost always seems gloomy and chilly here with its overcast skies, this tiny Pacific Coast city is bound to give you and your furry visitor a paw-bulous time – with or without the sun. With ample dog-friendly beaches, hiking trails, hotels, and restaurants, Half Moon Bay is, PAWS DOWN, a dog-friendly destination in the Bay Area that you should NOT skip.
Sniff out my favorite dog-friendly things to do in Half Moon Bay:
Hit up a dog-friendly BEACH
ARF, you can't visit the California coast without getting your paws sandy! Luckily, Half Moon Bay has plenty of dog-friendly beaches to choose from. OK, even though this isn't SoCal where the sun always shines, you can still have a beach outing with your dog. AWOOOO, let him dig up the sand, chase some furry butts, and if he dares, take a dip in the cold water or splash in the waves. To sniff the bright side, dealing with the chilly weather is better than dealing with the heat, which can be deadly for dogs.
Here's a list of dog-friendly beaches in Half Moon Bay:
Poplar Beach – Operated by the City of Half Moon Bay, Poplar Beach rests just a half-mile south of Half Moon Bay State Beach. Once you drive to the end of Poplar Street, you'll hit Blufftop Coastal Park, where this beach resides. On-leash dogs are allowed as well as horses! You may see many dogs off-leash as well. Dogs are allowed on the sand, unlike most state-run beaches. Beach admission is free, but you'll have to cough out $2/hour for parking, which is not bad considering you're in the Bay Area.
Redondo Beach – ARF, we're not in Southern California, but yes – there is a Redondo Beach here. As you can find this tide-pooling beach at Wavecrest Open Space, its nickname is Wavecrest Beach. Dogs (and horses) are allowed on trails and the beach, which is only a quick drive south of Downtown. The Wavecrest Trail starts at the beach parking lot and goes all the way north to Poplar Beach. Parking is free.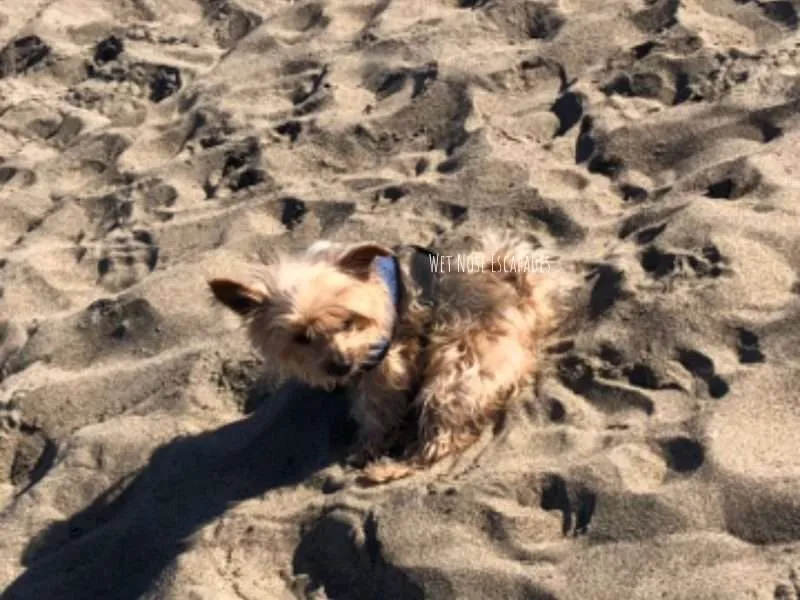 Pillar Point Harbor Beach – Inside the jetty right across from CA-1 from the El Granada residential community, this pawsome city-owned beach is protected from ocean waves! It's right next to the harbor and behind the touristy, but dog-friendly Sam's Chowder House (expect a wait to get a bite of their famous lobster roll) and the Pillar Point RV Park. On-leash dogs are allowed. Parking is free.
Mavericks Beach at Pillar Point – Although technically NOT in HMB, Maverick Beach is just 5.5 miles north of Downtown. Famous for big waves, this county-owned beach hosts surfing competitions between November and March. On-leash dogs are allowed at this pawpular beach. Free parking.
Miramar Beach – Bow down to Miramar Beach for being an OFF-LEASH dog-friendly beach. WOOF-HOO! Just a bark of caution: The high tides often erode the nearby road and beach, which means you ought to be careful with your dog. Free parking is found on the streets.
Mirada Surf Beach – Located just south of Pillar Point Harbor, Mirada Surf Beach is technically in the town of El Granada. On-leash dogs are allowed on all paths at Mirada Surf, which spans over a whoppin' 15-acres. The views here are stunning, to bark the least – because it's one of the few undeveloped steep shorelines or coastal bluffs in the area. Parking is free.
Surfers Beach – Like its name, Surfers Beach is heaven for surfers thanks to its pawfect location for being outside a nearby rock jetty. Inside the jetty lies Pillar Point Harbor Beach, which is protected from the waves – as barked earlier. On-leash dogs are allowed. Parking is free on or across the highway, so it's best to be extra careful with your dog.
Pelican Point Beach – Located near Pelican Point RV Park and surrounded by Half Moon Bay Golf Links golf course and community, this fantastic city-owned beach is within walking distance to the ultra-luxurious The Ritz Carlton. Dogs are also allowed OFF-LEASH! AWOOOO, time to get those paws sandy (and wet – not for me because I like to keep my paws dry :)).
Keep in mind that the following beaches are NOT dog-friendly:
Tunitas Creek Beach
Ross Cove Beach
Cowell Ranch Beach
Martins Beach
Half Moon Bay State Beach – consists of 5 beaches: Roosevelt Beach, Dunes Beach, Venice Beach, Elmar Beach, and Francis Beach. Dogs are welcome on the Coastal Trail, campground, and picnic areas as long as they are on a leash no longer than six feet.
Get your paws dirty on a dog-friendly TRAIL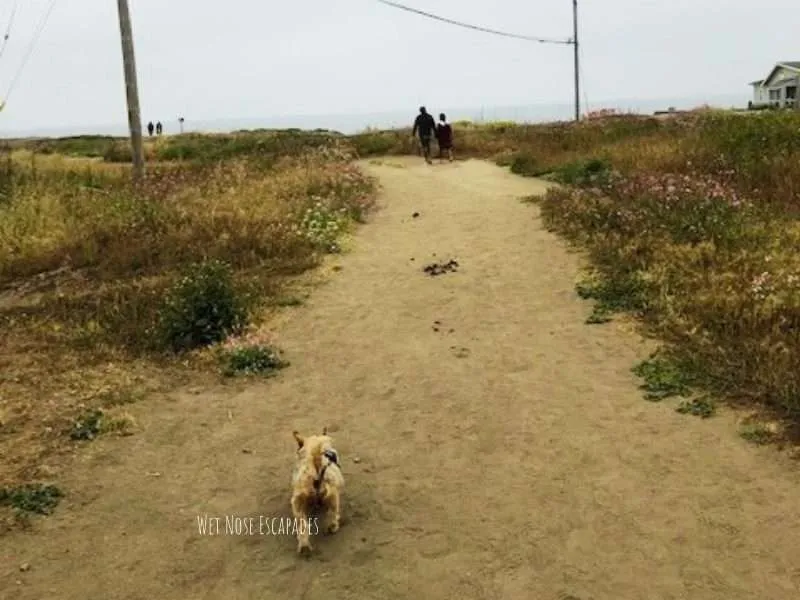 WOOF, dog-friendly trails are not hard to find here! In fact, let's just bark that there are A LOT of dog-friendly trails in Half Moon Bay to hit the ground running on all four paws. As HMB rests on the head-tiltin', world-renowned California coastline, you can do no wrong with any of these scenic trails. Expect ARF-mazing views! Here are my TOP DOG picks:
Coastal Trail – ARF, with 11 miles of jaw-droppin' coastline, Coastal Trail is one TOP DOG trail that runs a little south of the Ritz Carlton on the south to Pillar Point Harbor a few miles on the north. ARF course, small dogs should not make the entire trek, but large healthy dogs may enjoy the hike or a good portion of it – just be sure to take plenty of breaks so they can rest those furry paws. On-leash dogs are welcome, but be on the lookout for wild rabbits! The trail is open year-round. Fun Fact: This Coastal Trail even goes all the way down to Mexico!
Blufftop Coastal Trail – If you only want to do part of the Coastal Trail, I would bark to hit up the Blufftop portion, a 3-mile supaw pawpular trail (with both paved and dirt paths) that connects to the 11-mile Half Moon Bay Coastal Trail. I love how I am walking right next to the Pacific Ocean without getting sand on my paws! Blufftop Coastal Park is home to the dog-friendly Poplar Beach. Again, on-leash dogs are welcome.
Nearby dog-friendly trails:
Devil's Slide Hiking Trail – a 1.3-mile trail in Pacifica along the rocky Pacific Coast that welcomes on-leash dogs. The trail starts quite flat at the southern parking lot but evolves to moderate uphill and downhill slopes.
Montara Mountain North Peak Loop – a 7-mile pawpular moderate loop near Moss Beach. On-leash dogs are welcome.
Bean Hollow Beach Trail – Located south of Half Moon Bay, Bean Hollow Beach boasts one mile of coastline with two parking lots: Pebble Beach and Bean Hollow Beach. Dogs are allowed on the trails as long as they're on a leash.
If you have a small dog like me, then you may want to bring a dog backpack or carrier in case your dog needs to rest his or her legs. Regardless of your dog's size, remember to pack a water bowl and bottled water for water breaks. And, of course – always be careful of steep or slippery steps. Safety comes first!
Explore Dog-Friendly DOWNTOWN
With a small-town allure and dog-friendly vibe, Downtown Half Moon Bay must not be left unmarked! I made sure I marked up Main Street (which is, ARF course, literally the "main" street" of the town). GRRR, this town is MINE! Dog-friendly eateries and bars are easy to sniff out (not to bark, dog-friendly galleries and shops). Even if you don't feel like making a stop, Half Moon Bay's unpretentious yet sniff-worthy Downtown makes a marvelous stroll with your furry companion.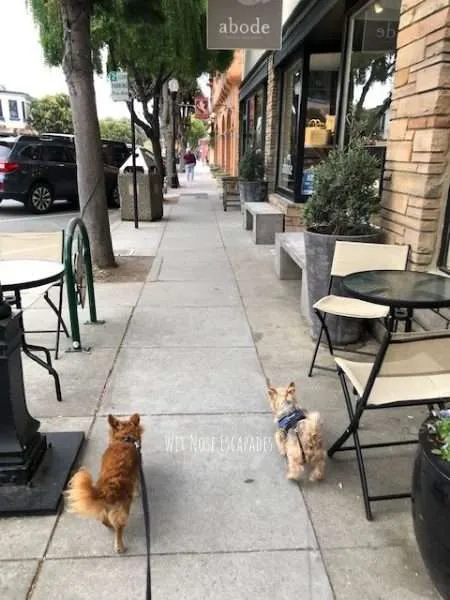 Communal dog bowls are often found outside storefronts to lure furry patrons. It's never too busy unless there's an event. Plus, parking is easy to find. Don't forget to rake your feet and hind legs at Mac Dutra Park and John L. Carter Memorial Park (named after the city's founding father), both of which are dog-friendly! Don't forget to sniff out murals and artwork sprinkled throughout Downtown.
And Harbor Village…
Once I'm done marking up Downtown, I like to hit up Harbor Village ( 270 Capistrano Rd, Half Moon Bay), where the outdoor pedestrian area is pawfectly landscaped and dog-friendly. Right next to the coast, Harbor Village boasts bars, shops, yoga studios, and most impawtantly, a few restaurants with dog-friendly outdoor seating here (try the upscale Peruvian spot La Costanera or get your furry paws on some mouthwatering lomo saltado to-go from Lamas Peruvian Food Truck).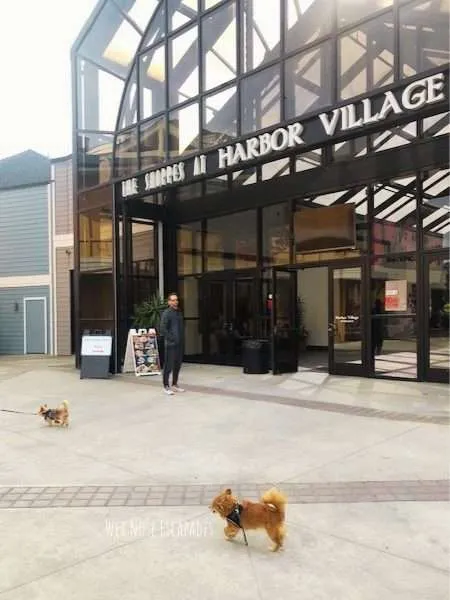 The only downside is that The Shoppes at Harbor Village (indoor shopping mall) is technically NOT dog-friendly. GRRRRR.
Devour seafood at a dog-friendly RESTAURANT
Fish and chips, clam chowder, Main Lobster, steamed mussels…Mmmmm. I think my little wet nose has found just the right place to fill up my little BIG Yorkie belly. Due to its ARF-mazing coastal location, Half Moon Bay is known for some chops-lickin', get-your-paws-dirty seafood! Now, if you don't eat much seafood (or meat), don't worry because vegetarian and vegan options are not difficult to find at restaurants.
Dining with your dog in Half Moon Bay is hardly an issue as there are plenty of restaurants with outdoor seating. However, the pawblem is that HMB's overcast, chilly weather doesn't always make dining outside pleasant. Be sure to pack a sweater for your dog!
My TOP DOG Picks to lick my plates clean:
Cantina @ San Benito House (356 Main St, Half Moon Bay) – ARF, this is my go-to Downtown spot! It's dogs GALORE at their huge dog-friendly patio (with 2 separate areas), which is adorned with heat lamps and fire pits. They serve tasty sandwiches, margaritas, and beers – just pawfect for a nice break after a long hike or walk.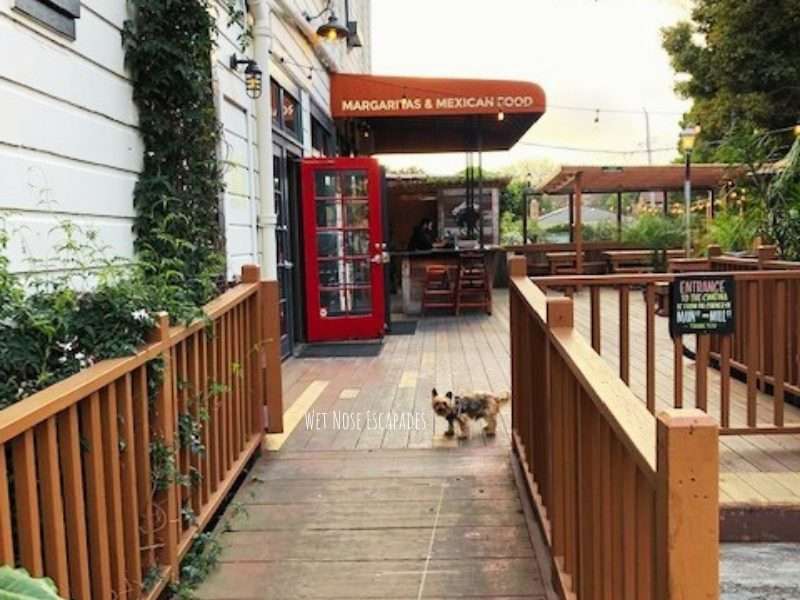 Sam's Chowder House (4210 CA-1, Half Moon Bay) – Paw-bably the most touristy restaurant in the city, but it's worth sniffing out at least once in your lifetime. PAWS DOWN, this is probably the most pawpular restaurant in the city thanks to their famous lobster rolls and (dog-friendly) outdoor patios overlooking the stunning Pacific Ocean.
Miramar Beach Restaurant (131 Mirada Rd, Half Moon Bay) – An American eatery serving seafood and steaks with a pawsome waterfront dog-friendly deck.
Princeton Landing Public House & Grill (460 Capistrano Rd, Half Moon Bay) – A very casual order-at-the-counter spot serving fish and burgers with dog-friendly outdoor seating in the front and a rustic back patio where there's live music on certain days. I want to love this place, but they do have a 4% charge for credit card use which I did not see signs anywhere (as of February 2022). I hope they change their business practices because this is a fantastic spot otherwise!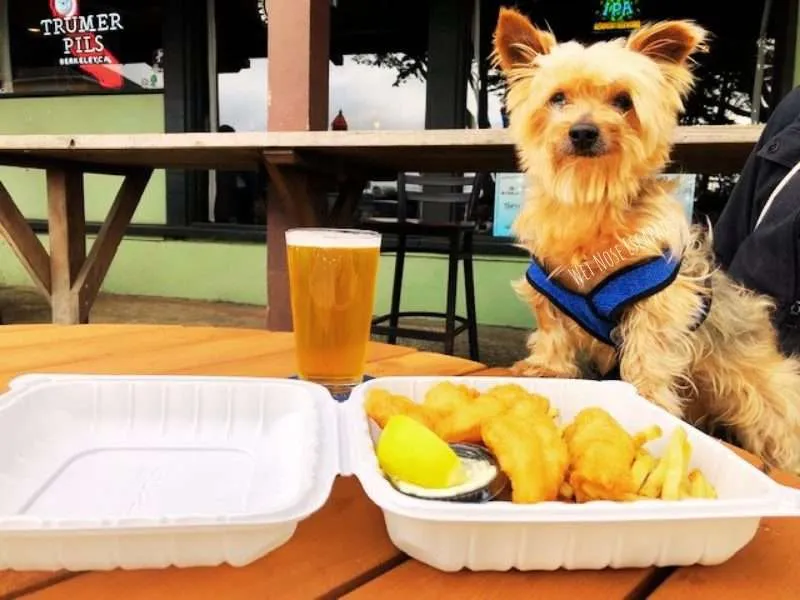 Barbara's Fishtrap (281 Capistrano Rd, Half Moon Bay) – Expect long lines at this cash-only, to-go fish shack with more than a few dog-friendly tables in front. If the tables are all taken, you can grab your goodies to enjoy elsewhere!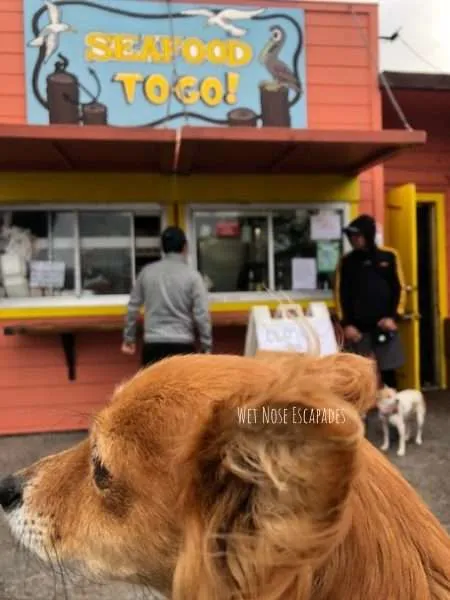 *As dogs are pack animals who'd LOVE to experience meals with you, don't forget to pack a bag of treats, dog-safe food, bottled water, and to-go bowls for your dog! Don't make your dog feel left out.
Mingle at the dog PARK
I was surprised to sniff out ONLY one off-leash dog park in Half Moon Bay. Coast Side Dog Park a.k.a. Half Moon Bay Dog Park is a volunteer-run, fenced-in public dog park supported entirely by private donations. Park is open from sunrise to sunset. All dogs should wear a collar displaying an identification tag.
KAYAK with your dog
OK, I'll bark some honest barks here – I'm no furry kayaker, but I know many dogs who love a good kayak (like my little BIG Weimaraner cousin Sonny). If your dog loves a good kayak, the good news is that you can bring him along! Just make sure the weather is warm enough for an enjoyable time out on the water. At Half Moon Bay Kayak (2 Johnson Pier Half Moon Bay), dogs are welcome to join the water escapade! Dog life vests are also available to keep your dog safe. They rent out single, double, and triple kayaks along with stand-up paddleboards. Make sure your dog stays on a leash.
MORE TOP DOG TIPS:
*Since it's always chilly, be sure to pack a sweater for yourself and your dog in case it gets too cold. Dress accordingly!
*Both the inland route (I-280 to SR-92) and coastal route (I-280 to CA-1) will yield similar distances in miles (29 miles vs. 31 miles) if you're starting from the city center, BUT the coastal route will tack on a few more minutes for a scenic route. Assuming there isn't any traffic, the scenic drive on the California Coast is worth the few extra minutes.
*The best time to visit HMB is obviously over the summer if you want the best weather. However, Springtime and early Fall are nice too, and you may get some sun if you're lucky!
The BEST Dog-Friendly Hotels in Half Moon Bay
The Ritz Carlton
5-star Hotel
1 Miramontes Point Road, Half Moon Bay
Two dogs allowed at a maximum weight of 40 pounds
$150 non-refundable dog cleaning fee per stay
$20 nightly dog boarding fee
A portion of the fees will be donated to the Peninsula Humane Society and SPCA – WOOFHOOOOO!
Half Moon Bay Inn
3-star Hotel
401 Main Street, Half Moon Bay
$50 per dog per stay
Quality Inn
2-star Hotel
2930 Cabrillo Hwy N, Half Moon Bay
$45 per night for a maximum of 2 dogs per room
Inn at Mavericks
2-star Hotel
346 Princeton Ave, Half Moon Bay
Three dog-friendly suites available – The Mavericks, Flat Rock, and The Jetty
One-time $50 dog cleaning/boarding fee per stay, $25 for a second dog
ARRRRFF, hope you enjoy my list of the BEST dog-friendly things to do in Half Moon Bay! Feel free to share your experience with me. BARK AT ME!
Subscribe to my YouTube Channel: Wet Nose Escapades by Roger Wellington for more fun dog videos!
Markin' it up,
Roger Wellington a.k.a. The Doob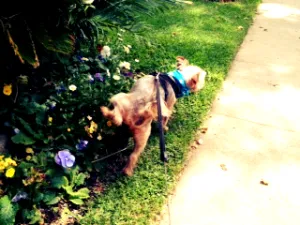 —
Like my post on "The BEST Dog-Friendly Things to do in Half Moon Bay, CA"? CLICK TO PIN!