WOOF, wanna know the TOP 5 things to do with your dog in Singapore? What's the dog culture like in Singapore? Sniff out the buttocks of my Singaporean crush Little Coco Beans to find out the top dog-friendly activities in Singapore!
Posted 10/1/22
Coco's TOP 5 Things to do in Singapore with a DOG
#1 Take a stroll in the gardens
Singapore has many beautiful parks and gardens. Whenever the weather is good over the weekend, a walk around the gardens early in the morning is therapeutic. It's a great way for pawrents to relax and spend lovely moments with their furry loved ones.
#2 Island Hop
Singapore is a small island surrounded by many small islands. Pawrents can bring their dog on island hopping trips to Sentosa, Saint John's Island, Kusu Island or Lazarus Island. Some of these islands are adorned with beautiful and pristine beaches with white sand. The ferry ride is around 1 hr for St John's Island, Kusu Island, and Lazarus Island. To get to Sentosa, you can drive across the bridge or take a slow walk across the bridge linking the mainland and Sentosa.
#3 Cafe Hop
Since the favorite pastime for most Singaporeans is dining out, it explains why Singapore has no shortage of eateries. You can find delicious food from different cultures everywhere in Singapore. Again, one of the best areas to dine with a dog is Robertson Quay and Dempsey Hill.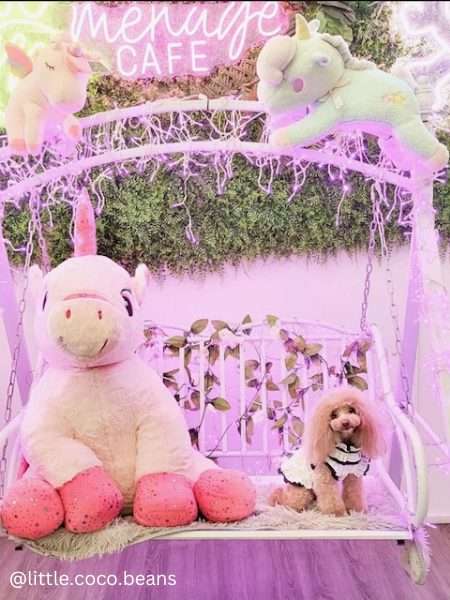 #4 Cruise with your dog at the Royal Albatross
Pawrents can sign their dogs up for a pet cruise! Dogs will be served a curated 3-course fine dining meal while humans can enjoy a choice of a 4 or 7-course dinner out at sea overseeing the horizon and sunset. This cruise takes about 2 hours, and there is no better way to enjoy the fresh sea breeze. Photos are a MUST!
#5 Go on a Sidecar Heritage Tour
For dogs around 5 kg (11 lbs) or less, they can go on a sidecar heritage tour with their pawrents! They will be driven around on a vintage Vespa sidecar, and get to tour various Singapore Heritage sites such as Joo Chiat, Katong, or Arab Street. That is a unique dog-friendly way to experience all the different cultures Singapore offers.
Watch Coco ride the sidecar and hit up the beach:
A BARK OF CAUTION: As some dogs love to stick their head out of the cars, please ensure they are properly strapped in.
Dog Culture in Singapore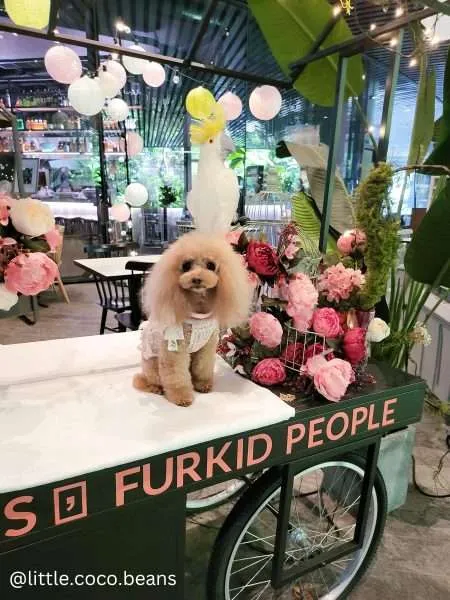 According to Coco's pawrent and hooman slave Helen, the best part of having a dog in Singapore is the close-knit community with accessible veterinary care and facilities (although expensive). On the other paw, one of the biggest challenges is the lack of acceptance of dogs as part of the family by Singaporean society. Having a dog often means cutting down on visits to the malls and indoor dining – places that prohibit dogs. Such activities would then be replaced by dog-friendly activities like al fresco dining and online shopping.
Coco's favorite dog-friendly parks in Singapore are Gardens by the Bay and Botanic Gardens, both close to her home and conveniently located to dog-friendly eateries. There are also dog parks in the area that they haven't explored since Coco doesn't like to play with other dogs.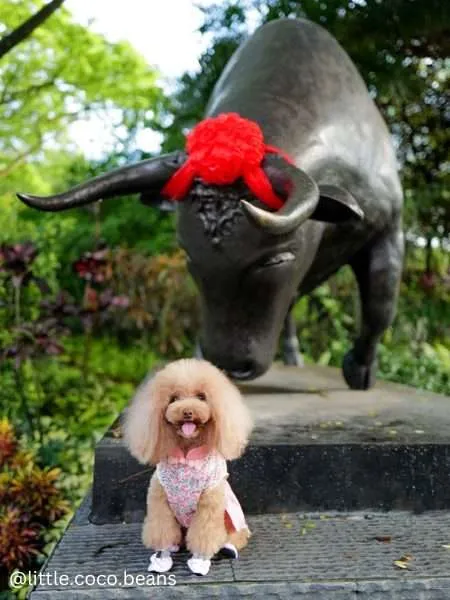 Singapore only has two seasons a year – HOT and HOTTER! The humidity is also very high. Unfortunately, not many cafes and restaurants allow dogs to dine indoor with air con. And, those that allow pets at their cafes/restaurants require a pet license before allowing dogs onsite – whether indoor or outdoor.
Coco & Helen have broken down the three broad categories of dog-friendly cafes/restaurants:
– Dog Cafes: Dog pawrents can dine comfortably indoors with air conditioning while their dogs can walk around and socialize with other dogs in the cafe. Essentially, it's a big indoor playground for dogs. Dogs can also explore inside the cafe and even order off a Dog or Pet Menu!
Where to go: Wooftopia, Menage, SunRay, TWO X FOUR, and INU Cafe & Boutique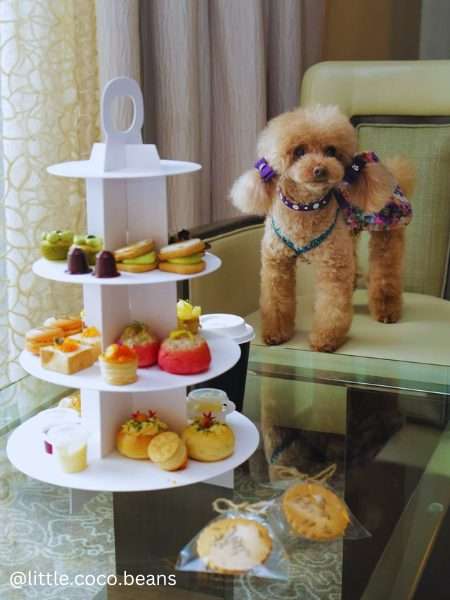 – Pet-friendly Indoor Cafes/Restaurants: Both dog pawrents and dogs can dine comfortably indoors with air conditioning, but dogs are not allowed to wander inside or play with other dogs. These establishments cater mainly to humans, but welcome pawrents to bring along their dogs. Sadly, there aren't many dog-friendly indoor cafes/restaurants in Singapore. 🙁
Where to go: Cafe De Nicole & Under the Linden, which is Helen and Coco's favorite due to its beautiful ambiance, Instagrammable food, and floral arrangements. Tomahawk is a fine dining Western-style restaurant where dogs can actually dine INDOORS alongside their humans; not to bark, it also serves pretty good steaks!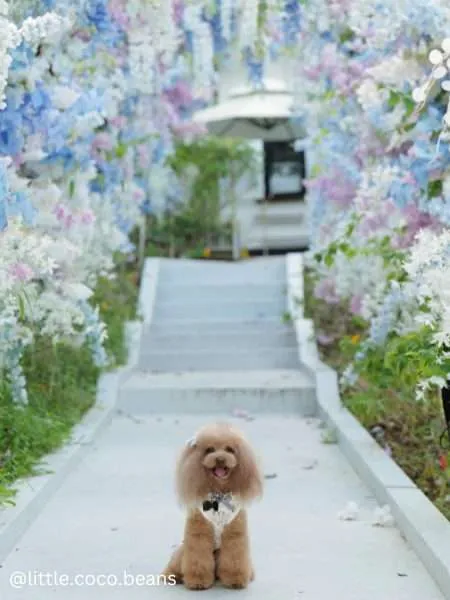 – Pet-friendly Outdoor Cafes/Restaurants: Dog pawrents are welcome to dine with their dogs outside only (al fresco seating). With the hot weather and high humidity in Singapore, the dining experience is not as enjoyable as in other countries with a cooler climate. Helen always brings a portable mini fan for Coco as she cannot imagine the heat she's feeling in her natural fur coat.
Where to go: Robertson Quay, Dempsey, and Sentosa Cove – Coco & Helen can find numerous dog-friendly outdoor cafes/restaurants, from Dim Sum to Western to Japanese to Mexican.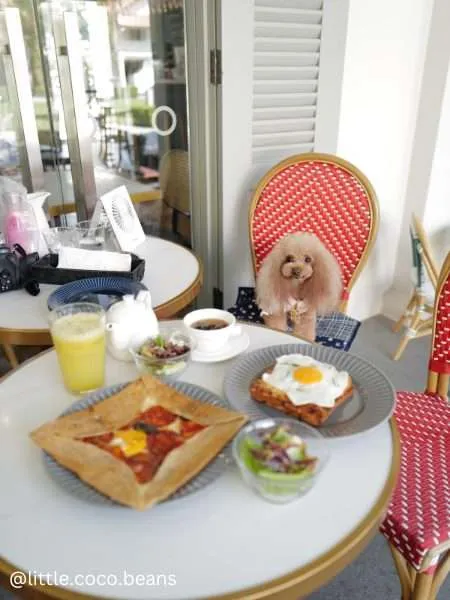 Coco's TOP Dog-Friendly Tourist Attractions in Singapore
– Sidecar rides
– Heritage trails at Joo Chiat, Tiong Bahru, Chinatown
– Staycations: In-room dining at all the pet-friendly hotels
– Dog Cruise onboard the Royal Albatross (Wednesday nights only)
– Island Hopping to St John's Island, Kusu Island, and Lazarus Island
– Gardens by the Bay, Botanic Gardens, Marina Barrage
– Green Corridor
– Hort Park
– Sentosa beaches
A BARK ABOUT LITTLE COCO BEANS
Hailing from Singapore, Little Coco Beans is a 3.2-kg (7 lb.) Toy Poodle was adopted at the age of one by her hooman slave(s) Helen (and her husband). Not much background of Coco's past is known, but it's safe to bark that she is living the princess life on the island. She is so spoiled that she shares a bed with her hoomans, has her own food compartment in the fridge, and even her own little wardrobe in the study room!
Coco is also an expert eavesdropper – whenever she hears Helen and her husband going out, she instantly switches from sleepy mode to super hyper mode. Plus, she is supaw smart – she can also tell when it's time to galavant over the weekends solely based on what clothes Helen is wearing! Both Helen and her husband grew up with dogs but didn't get Coco until their daughter (who wanted to add a dog to the family) completed her overseas studies.
Her favorite things to do in this world are cafe hopping, shopping at the mall, riding in cars, and eating mouthwatering treats and food. On the other paw, what Coco hates (or is afraid of) the most are INSECTS, the groomer, and the vet (understandably so). Unfortunately, arf-ter being chased around by some big friendly dogs at a dog cafe, she became fearful around most dogs – whether big or small. 🙁
Most impawtantly, Coco is a furry world traveler and has already sniffed out 5 countries in Europe! Sniff out her wet nose escapade in Europe below:
Subscribe to my YouTube Channel: Wet Nose Escapades by Roger Wellington for fun dog videos!
Dog Culture in Europe vs. Singapore
Based on what Coco and Helen experienced and saw, the dog culture between these two countries is quite disparate. Unlike Europe where dogs generally enjoy freedom in malls, parks, and public transportation, Singapore's approach is different; most of the malls and public transport are not dog-friendly unless otherwise stated. Because the public transport system in Singapore is not dog-friendly, those who do not own a car will have to arrange a special cab/taxi, which can be double the price of a normal cab/taxi fare.
Most shopping malls and boutiques in Singapore are also not dog-friendly, except a paw-ful like Apple Stores, Star Vista, and Vivocity. Yet these pet-friendly malls (except Star Vista) and boutiques only allow dogs if they are in a carrier (i.e., no paws on the ground). Therefore, Helen opts to do her shopping mostly online since there are very few malls she can go with Coco.
Nonetheless, she does want to credit the malls and stores for opening their doors to pets. As the Singapore retail scene matures and recognizes the fact that many families want to bond with their furkids, there is hope that more shopping centers will become inclusive and dog-friendly, which would bring in additional revenue. With the increased number of dog pawrents in Singapore, depriving them of bringing their dog to malls, cafes, and restaurants would mean a drop in revenue. Many Singaporeans like Helen would bypass them to support businesses that allow furkids.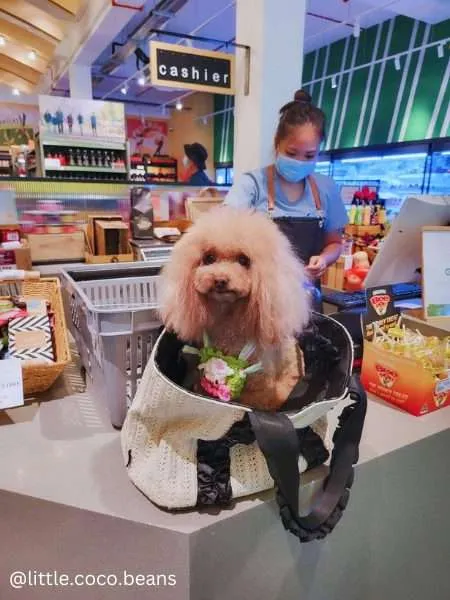 ARRRFF, a special bark of THANKS to Coco & Helen for sharing their Top 5 Things to do with Your Dog in Singapore along with their pawtastic dog-friendly Singaporean life with us. Can't get enough of Coco? Be sure to sniff out her feature on "Taking Your Dog to Europe from Singapore" and follow her cutesy paw prints on IG.
Markin' it up,
Roger Wellington a.k.a. The Doob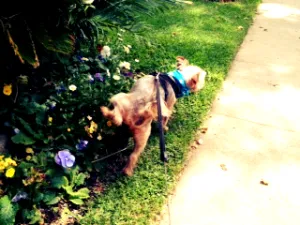 –
Like my post "TOP 5 Things to do with Your Dog in Singapore"? CLICK TO PIN!