ARRRRF, wanna eat at the BEST dog-friendly restaurants in San Francisco, California? Keep your wet nose sniffing!
First Posted 3/10/22, Last Updated 9/16/22
*Please note that this post contains affiliate links, and at no obligation or additional cost to you, my humans and I earn a small commission if you make a purchase. If you love the work that we do, you can show your support by making a purchase through an affiliate link. Proceeds will go towards feeding homeless dogs (and cats) along with improving the lives of the neglected and abused.
Cable cars, hills, fog, techies, hipsters, eccentric neighborhoods, culturally rich ethnic enclaves, and ARF-course, the monumental Golden Gate Bridge – San Francisco is a world-class destination with a heck lot of character. Not to bark, its cuisine is TOP DOG status. And yet, one of the best things to do with your dog in San Francisco is to EAT OUT! In "Paris of the West," it's always fun to scarf down a Mission burrito or slurp on cioppino with your precious four-legged family member right next to you. Even though dogs are technically not allowed inside restaurants, the City by the Bay a.k.a.my hometown, still boasts a pawsome dog-friendly vibe with a plethora of dog-friendly activities and restaurants within its ARF-so-tiny 7X7 square mile area.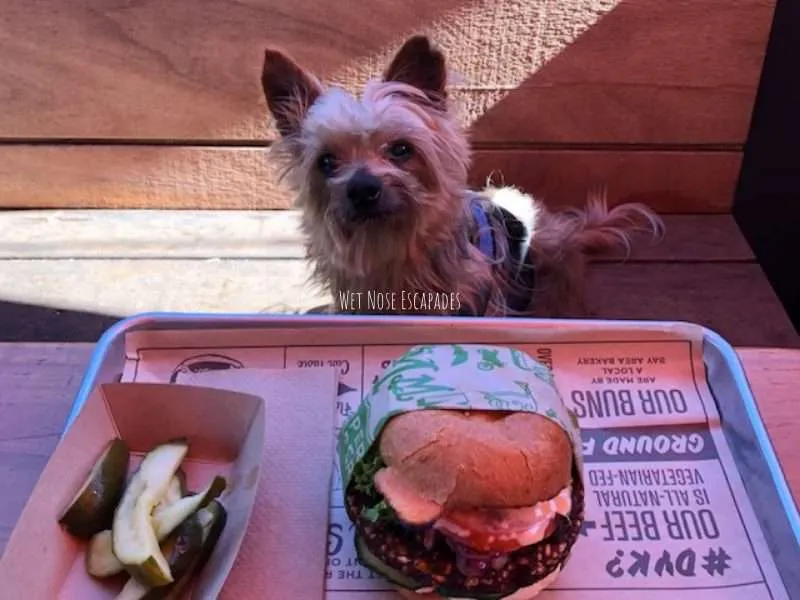 Like the rest of California, dogs may dine on outdoor patios ONLY if the restaurant allows. In 2014, Governor Jerry Brown signed AB 1965, which allows restaurants and retail food businesses with outdoor seating areas to permit pet dogs (non-service dogs) in those areas. However, the catch is that it's still up to the restaurant owner's discretion to allow dogs to dine outside. It often comes as a surprise for dog pawrents since most eateries with outdoor seating will gladly welcome your pooch – outside, that is. Although it doesn't happen very frequently, I'm lowering my tail as I bark that I HAVE BEEN denied entry on outdoor patios TWICE here in my home state. As a matter of bark, one time happened here in San Francisco. 
GRRR, I can only bark that it's extremely disappointing when it happens, but the law does allow food businesses to decide whether or not to allow dogs. On the flip side, the pandemic has forced many restaurants to incorporate outdoor seating and parklets, which means more dog-friendly dining options. WOOF-HOO! I've also experienced some luck in being warmly welcomed inside by dog-lovin' staff when it was too chilly or windy to sit outside. Nevertheless, I'm used to living in France and Italy where I'm treated more as an equal – I can sit my furry butt on a gigantic chair and lick my chops to some beef bourguignon and seafood pasta with my humans next to me, warming my butt.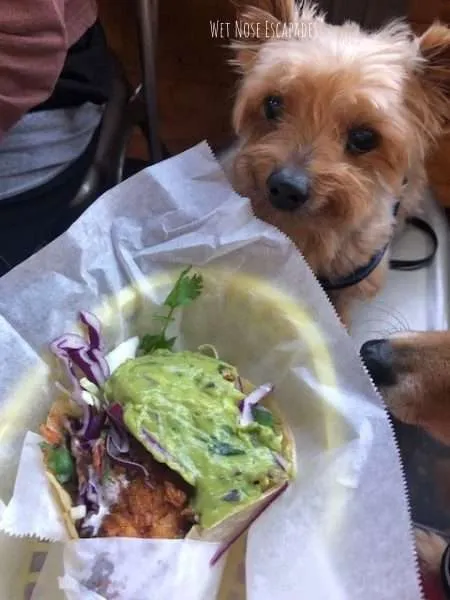 Until the day comes when I can march inside any restaurant in California with an upright tail without any disgusted looks, I'm happy to bark out:
16+1 BEST dog-friendly restaurants in San Francisco:
*As dogs are pack animals who'd LOVE to experience meals with you, don't forget to pack a bag of treats, dog-safe food, bottled water, and to-go bowls for your dog! Don't make your dog feel left out.
#1 Palmer's Tavern – Pacific Heights
2298 Fillmore St
WOOF, arf-ter walking past Palmer's countless times, I decided to give this Fillmore HOT "spawt" a real sniff. And, dog was I NOT disappointed! Even though I opted for dog-friendly outdoor seating under their heat lamps on a chilly San Francisco evening (blankeys provided upon request), my soft puppy brown eyes followed more than several pampered dogs who were carried in and out of the restaurant – not even accounting for the ones begging for a bite outside. Heck, I even spawted a fluffy Maltese cozying up with her human in one of their classic red leather booths, which set off a warm nostalgic vibe. From an extensive drink menu (that includes tasty cocktails, local brews, and Napa Valley wine) to a pawtastic small plates happy hour menu (with vegetarian options), Palmer's is guaranteed a good time with your dog by your side. ARF course, if you wanna fill up your tummy, you can get your paws on one of their mouthwatering entrees, such as their classic Palmers burger (like I did).
#2 The Dorian – Marina
2001 Chestnut St.
ARF, this Victorian-themed tavern at the paw-pular corner of Chestnut and Fillmore is su-paw dog-friendly. Time after time, I've marched into this neighborhood supper club with all four paws and an upright tail and gotten seated right away. I was surprised during my first visit when the host welcomed me with open paws, proudly announcing their dog-friendly policy. ARF-my-DOG! Whether indoor or outdoor, I've never had any issues getting seated – no nasty looks, no questions. Gotta love their dog-lovin' attitude! Serving American fare and free-spirited cocktails, The Dorian is the poshest spot to be if you wanna grab a craft martini or fine whiskey with some juicy sliders or tacos AND watch a game of football while relaxing inside a spectacular Victoria manor.
#3 Tacolicious – Marina
2250 Chestnut St.
Although this is a local chain, the Marina location remains my favorite. It's not just because I used to live within a few blocks from its old Chestnut location, but it's also because they started hosting their very first Barklet Happy Hour every Wednesday with a special menu for dogs back in October 2021. While humans chomp on juicy tacos (mushroom "carnitas" to Baja-style Pacific Cod) and down some tequila shots, their furry dining companions can choose between two entrees: chopped sweet potato and chicken thigh OR unseasoned, veggie-fed, antibiotic-free ground beef. Churro chews are also available as a quick snack. Water bowls are complimentary, as usual. Barkley Happy Hour is available at all locations (as of March 2022).
#4 Choquet's – Pacific Heights
2500 Washington St.
While Choquet's offers a full menu of French goodies, I prefer to come here for desserts instead. ARF, their delicious sweet crepes never fail to get me lickin' my chops! The scene at this modern French bistro in the prestigious Pacific Heights (near SPCA) is almost always dog-centered. Don't believe me? WOOF, walk your paws there during brunch or dinner time on any Saturday, and you're bound to see several furry diners. Often, you'll find a well-behaved dog just roaming off-leash around vacuuming fallen table scraps. Since Washington Street is blocked off, their outdoor seating is massive with tables spread out and heated lamps to keep your doggies warm. The staff is also supaw dog-lovin' and friendly – they usually give me treats and bones just for walking by!
#5 Rose's Cafe – Cow Hollow
2298 Union St.
Established in 1997, Rose's Cafe has been gifting the Cow Hollow/Marina community for years with its delicious Italian fare. This cute and cozy cafe has been a long-time neighborhood gem with mostly human and furry regulars during weekend brunch. It has the reputation of being one of the most dog-friendly restaurants in the City – dog bowls (with smiles) are typically delivered without request. ARF-my-DOG, the culinary leader a.k.a. Executive Chef Miguel Tzab cooks up some mouthwatering treats – paninis, pizzas, pasta, homemade pastries, and bread! Besides the dog-friendly sidewalk seating with heated lamps on both sides of the restaurant, the best part about Rose's Cafe is that they give out special homemade dog biscuits to furry diners. Mmm mmm.
#6 Starbelly – Castro
3583 16th St.
Fill up my little BIG Yorkie belly, Starbelly! Located in the heart of the vibrant Castro District, this modern eatery focusing on Californian comfort food features a dog-friendly parklet and sidewalk seating. Most impawtantly, they also offer a cozy back patio with heaters and communal tables where dogs are seated right away without question. Not to bark, SF Magazine even ranked Starbelly in their Top 10 Patios list. WOOF-HOO! Chef Adam Timney takes immense pride in locally sourcing his ingredients and offering a seasonal menu. Brunch, lunch, happy hour, or dinner – Starbelly is a PAW above the rest for a belly-filling, chops-lickin' outing with your dog.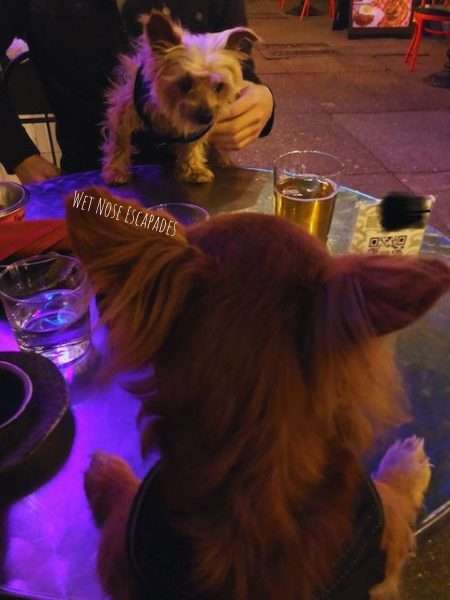 #7 Sweet Maple – Lower Pac Heights
2000 Post St.
Sweet Maple is, ARF, so darn sweet! A list of the best dog-friendly restaurants in San Francisco is never complete without Sweet Maple. The restaurant started as a local spot, but its TOP DOG food has attracted outsiders from across the bridges and afar. Expect long lines as City yuppies and their furbabies flock here for their special brown-sugar-glazed "millionaire's bacon" every weekend during brunch. My humans rarely consume pork but found plenty of veggie omelets, benedicts, melts, and pizzas on their expansive menu. Trust me, I'd gladly go in for a lick of that bacon if they ever order it. Not only is their sidewalk seating dog-friendly, but their staff is also su-paw, du-paw dog-welcomin' – dog bowls delivered with all smiles. 🙂 WOOF, it's never a paw-blem brunchin' it up with your dog here.
#8 The Brixton – Cow Hollow
2140 Union St.
OK, The Brixton may be old news on Union Street, but it remains one of my go-to spots for brunch. ARF-ter all, I'm a sucker for their mouthwatering veggie breakfast burritos – stuffed with breakfast potatoes, scrambled eggs, and cheddar. Mmmm, let me just bark that it is ARF-so-beg-worthy! Although I can't eat avocados, my human likes to stuff her mouth with their avocado toast (which consists of smashed avocados and shaved vegetables on Texas toast). With paw-bulous rock 'n' roll artwork on the interior, The Brixton is a fun gastropub-American eatery to hang out. Dogs are welcome on their sidewalk seating with heated lamps, which come in handy for the typical San Francisco weather. Water bowls are quickly delivered upon request, which is a plus.
#9 Flores – Cow Hollow
2030 Union St.
As a former furry Marina resident, I love walking up to the prestigious Union Street in Cow Hollow, where hip restaurants, clothing boutiques, and exercise studios dominate. After returning to San Francisco, the new Mexican eatery Flores got me sniffing and lickin' my chops. It can be a meat market for dogs here! With ample outdoor sidewalk tables and Covid-booth dividers right in front, Flores welcomes dogs to join their humans for a feast – from fish tacos to crab tostadas to enchiladas. And, don't forget to add a margarita! My favorite time to go is Happy Hour (3-5 pm on weekdays) when I can get discounted tacos and margaritas.
#10 Squat & Gobble – Marina
2263 Chestnut St.
With most San Francisco dog-friendly restaurants offering only sidewalk seating, Squat and Gobble is a dream for furry diners! Woof, this is my go-to spot whenever I need to get my claws typing on the laptop, but need a change of scenery (or shall I bark, sniff-ery) from my home office. This local mini-chain with counter service and menus on chalkboards has an aesthetically-pleasing heated, dog-friendly garden patio in the back IN ADDITION to a few tables on the sidewalk in front. ARF-my-DOG! Breakfast, brunch, lunch, linner, or dinner – Squat & Gobble has you and your dog covered! From breakfast crepes to savory crepes to avocado toasts to veggie fajitas to salmon filet, there's something for everyone to get their paws greasy. Dog bowls are always happily delivered (often without having to ask)! 🙂
#11 Zazie – Cole Valley
941 Cole St.
If you're looking for some French toast and Florentine eggs benedict, Zazie is IT. This French joint in Cole Valley is spot-on with brunch, but you'll have to expect a wait over the weekend because it does get a little crazy. They have a beautiful dog-friendly covered wooden heated garden patio in the back, but the seating can get a little tight. Hence, it's best to make sure your dog can relax under the table (or on the wooden chairs – if you have a spoiled dog like me). ARF course, they also have sidewalk seating if you and your dog prefer some prime dog or human-watching on Cole Street. Not to bark, the staff is also supaw dog-lovin'. The most sniff-worthy part about Zazie is that it is TIP-FREE as all the menu prices include a living wage, revenue share, paid family leave, fully-funded health and dental insurance, and 401K match for their pawsome staff. WOOF-HOO!
#12 Pizzeria Delfina – Mission & Pacific Heights
2406 California St. – Pac Heights
3611 18th St. – Mission
Pizzeria Delfina is a MUST mark spot with your dog in San Francisco. This James Beard Award-winning pizzeria is inspired by pizzas in Naples (Italy) and New York City. It's a buzzin', unpretentious, farm-to-table neighborhood trattoria established by a husband and wife team. Both locations in the City have dog-friendly sidewalk seating and parklet so your dog can get a chomp of that toasty Margherita pizza crust or stay busy by watching furry passerby. My humans also reported that their signature cocktails are ARF-mazing (try Church or Delfini!). Besides Neapolitan pizzas (or "red pies" as noted in their menus), I love their spaghetti Pomodoro and smothered chard. YUM!
#13 Delarosa – Marina
2175 Chestnut St.
This paw-pular sleek Italian eatery never fails to disappoint my little BIG Yorkie appetite, especially having been a former furry Florentine. The bright orange-themed Delarosa is, PAWS DOWN, one of the best places to eat on Chestnut with your dog. Heck, their extensive menu consists of freshly baked crispy Roman pizzas, tasty antipasti, hearty paninis, refreshing salads, and to-beg-for pasta dishes. I'll stare 'em down until I put those goodies to my mouth. YUM! Ample dog-friendly sidewalk seating with heated lamps is available. Plus, their staff will happily bring your dog a water bowl upon request.
#14 apizza – Lower Pac Heights
2043 Fillmore St.
Apizza may be the "new kid" on the Fillmore block, but it's already leaving some major alpha marks (as I would bark). First things first, the pizzas here are cheap, cheap (from $3.74 to $9.95 base, as of March 2022). WOOF, this is particularly cheap for Pac Heights standards – even though this is technically Lower Pac Heights. This red-themed, casual, order-at-the-counter restaurant offers parklets that are pawfect for some dog-friendly outdoor dining. I love how I can get my furry paws greasy with custom-made, sustainably-minded personal pizzas, from Margherita to smoked salmon. I can get the pizza flat in a pouch or folded in a bag! Plus, I can add extra mushrooms and even some avocado (if only they weren't toxic to dogs, but my humans are su-paw fans). As if those baked goodies weren't enough to fill up my Yorkie belly, they also offer non-fat, probiotic frozen yogurt from Loving Cup.
#15 Nick's Crispy Tacos – Russian Hill
1500 Broadway at Polk
WOOOF, this is a classic family-run San Francisco Mexican joint on Polk Street! Famous for its signature 2-tortilla tacos, Nick's Crispy Tacos has earned bragging rights to creating crispy shell tacos by combining one soft tortilla and one hard tortilla combined with jack cheese and guacamole a.k.a. Nick's Way! I am a sucker for their succulent fish tacos (I get it Nick's Way, ARF course). While the red, divey interior feels more like a sports bar (it also turns into a nightclub), their outdoor sidewalk seating and parklet are, PAWS DOWN, some happenin' spots for furry diners and furry passerby. WOOF, let's just bark that it's quite a butt-sniffing pawty out here.
#16 Crepevine – Inner Sunset
624 Irving St.
WOOOF, Crepevine is a freakin' PAWSOME gathering place! Even though it's a bit of a drive to the Sunset, these tasty crepes and fun atmosphere are worth the gas money and annoying parking situation (as I've barked at my humans). Like Squat & Gobble, Crepevine is a casual, family-operated, order-at-the-counter spot with menus hand-written on risen chalkboards. San Francisco crepe, Santa Fe crepe, Tuscany crepe, New Orleans Benedict, Golden Gate Salad, and so forth – the list of heavenly goodies barks ON! Mmmm mmm. Although they have ample dog-friendly sidewalk seating and parklet, they do get quite busy here, especially for weekend breakfast and brunch so be sure to get your furry paws on a table quickly unless you mind the wait.
#17 Osha Thai at Embarcadero – Financial District
4 Embarcadero Ctr.
ARF, Osha Thai has had a strong foothold in the City since 1996. Although other locations have closed in the City, the paw-bulous Embarcadero location right across from the Ferry Building is still standing like a TOP DOG. With a lovely outdoor patio in front with heat lamps, Osha Thai is my go-to spot for some mouthwatering Thai food in a lively, trendy atmosphere. The best part about dining here is that you can sniff out all the intriguing sculptures at the Embarcadero Center as you stuff your mouth with some pad thai. From firecracker prawns to spicy eggplant to Kobe beef, Osha has you covered for all the delectable Thai goodies you can ask for. They also have a Happy Hour menu with discounted drinks and Thai tapas, from Monday to Sunday 5-7 pm (as of March 2022).
WOOF, hope you enjoy my list of 16+1 BEST Dog-Friendly Restaurants in San Francisco! Feel free to share you dog-friendly San Francisco experience with me. BARK AT ME!
Subscribe to my YouTube Channel: Wet Nose Escapades by Roger Wellington for fun dog videos!
Be sure to sniff out my other dog-friendly San Francisco posts:
10+1 BEST Dog-Friendly Parks in San Francisco
10+1 BEST Dog-Friendly Activities in San Francisco
Markin' it up,
Roger Wellington a.k.a. The Doob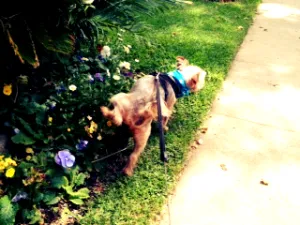 —
Like my post on "16+1 BEST Dog-Friendly Restaurants in San Francisco, CA"? CLICK TO PIN!