Looking for dog-friendly day trips from Los Angeles? WOOF, keep on sniffing!
First Posted 6/8/21, Last Updated 4/29/23
Just because I left my little BIG Yorkie heart in San Francisco doesn't mean that I can't call SoCal home. ARF, I may be a furry nomad hailing from Northern California, but I know SoCal like the back of my two front paws. After all, Los Angeles has been my primary home base since 2016 since leaving San Francisco to pursue a nomadic life with my two crazy humans. I know my NorCal folks hate it when I bark this, but SoCal trumps NorCal in fun day trips and weekend getaways. Heck, the mountains, beaches, and desert can all be within a two-hour drive or so (well, with no traffic). From the 101 to the 5 to the 10, I've cruised up and down (or shall I bark, got stuck in traffic) on those nasty SoCal freeways like a real Angeleno. 
*Please note that this post contains affiliate links, and at no obligation or additional cost to you, my humans and I earn a small commission if you make a purchase. If you love the work that we do, you can show your support by making a purchase through an affiliate link. Proceeds will go towards feeding homeless dogs (and cats) along with improving the lives of the neglected and abused.
Sniff my furry buttocks to find out my 10 favorite dog-friendly day trips from Los Angeles:
#1 San Diego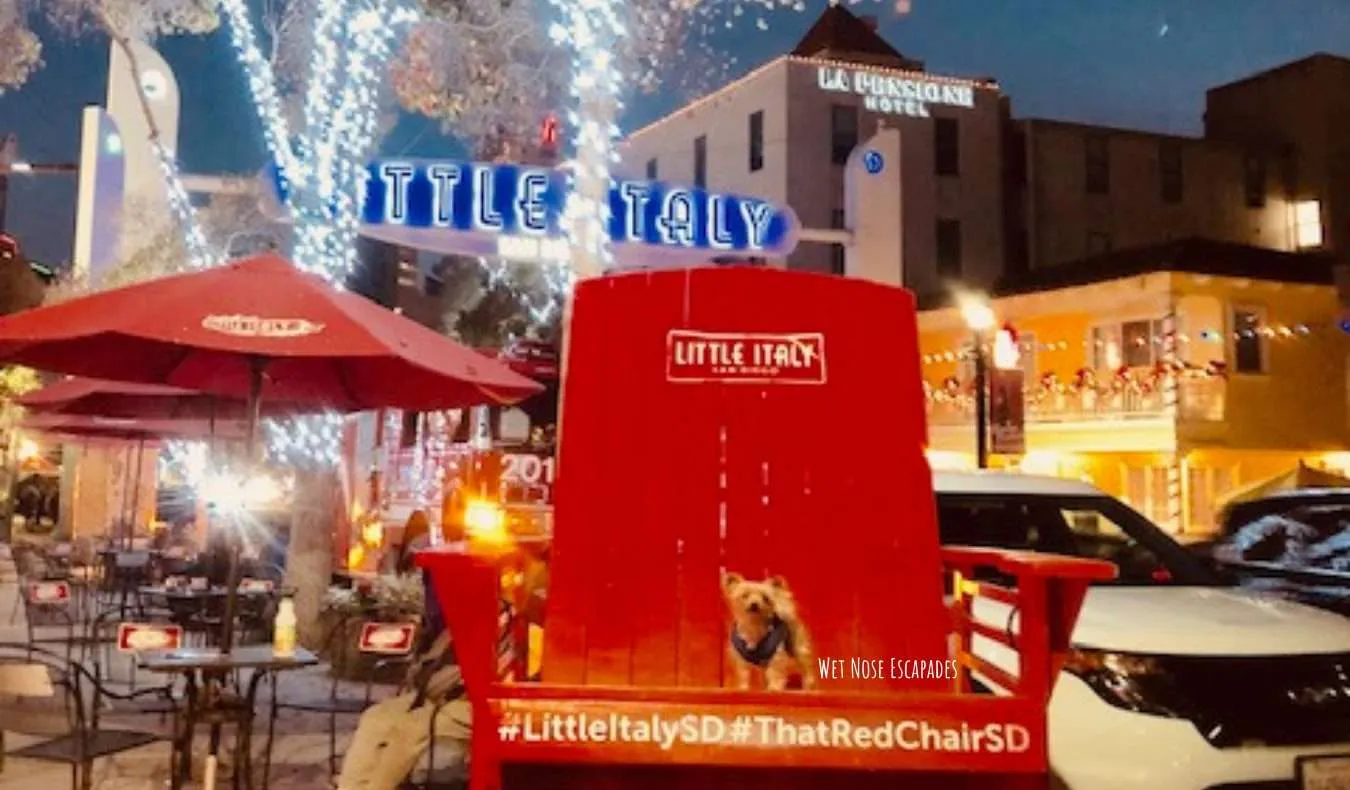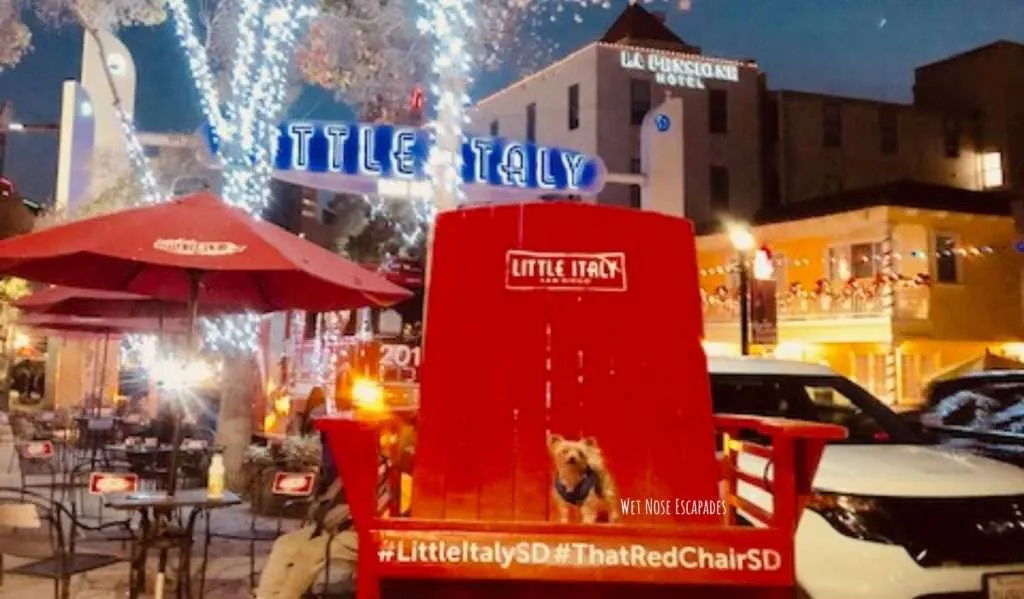 As a California native, I'm wagging my tail to bark that I've visited "America's Finest City" more times than I can count with all my claws! Located near the Mexican border, San Diego is only a 2-hour-ish, 120-mile drive (no traffic) from Los Angeles. Not only is San Diego a nationally renowned vacation destination, but it is also, paws down, one of the most dog-friendly cities in the country. AH-HOOO, that's right – SD is the place to be!
I love brunching it up with the San Diegans in Little Italy, getting my tiny paws sandy at Dog Beach (San Diego River Floodway), and human and dog-watching at cool pubs in Gaslamp. In addition to dog-friendly restaurants, bars, and beaches, this city has ample dog-friendly hotels along with free poop bag stations at almost every corner. With year-round sunshine and mild weather, San Diego is an ultra-fun destination to visit with your dog practically any time of the year. WOOF, San Diego or "SD" is, indeed, one of the most popular dog-friendly day trips from Los Angeles.
Sniff out more dog-friendly activities in San Diego
#2 Palm Springs
Nestled in the Sonoran Desert, Palm Springs is a world-class resort city with fancy hotels, luxurious spas, hot springs, high-end shopping, and barkworthy golf courses. Historically, Hollywood stars found refuge in this area to find some peace away from the hustle and bustle of LA, which is 2 hours away (no traffic). With a plethora of restaurants with outdoor seating, you can enjoy the California sun while chomping on breakfast burritos in vibrant Downtown Palm Springs with your dog next to you. Now, that can be before or after you've shopped until you dropped with your pooch.
Across Coachella Valley, you'll find plenty of dog-friendly opulent hotels and resorts welcoming your dog's stay (typically with an extra fee). From Riviera Palm Springs ($100 per stay) to The Saguaro Hotel (FREE regardless of size) to The Chateau at Lake La Quinta ($100 per stay), you have A LOT of pawsome places to stay with your dog – if you choose to spend more than just the day here. 
The only downside to Palm Springs is that it can get VERY hot during the summer reaching triple digits – dangerously hot for your dog. ARF, it is, indeed, a desert! Therefore, the best time to visit Palm Springs with your dog is during the winter or late Fall.
#3 Lake Arrowhead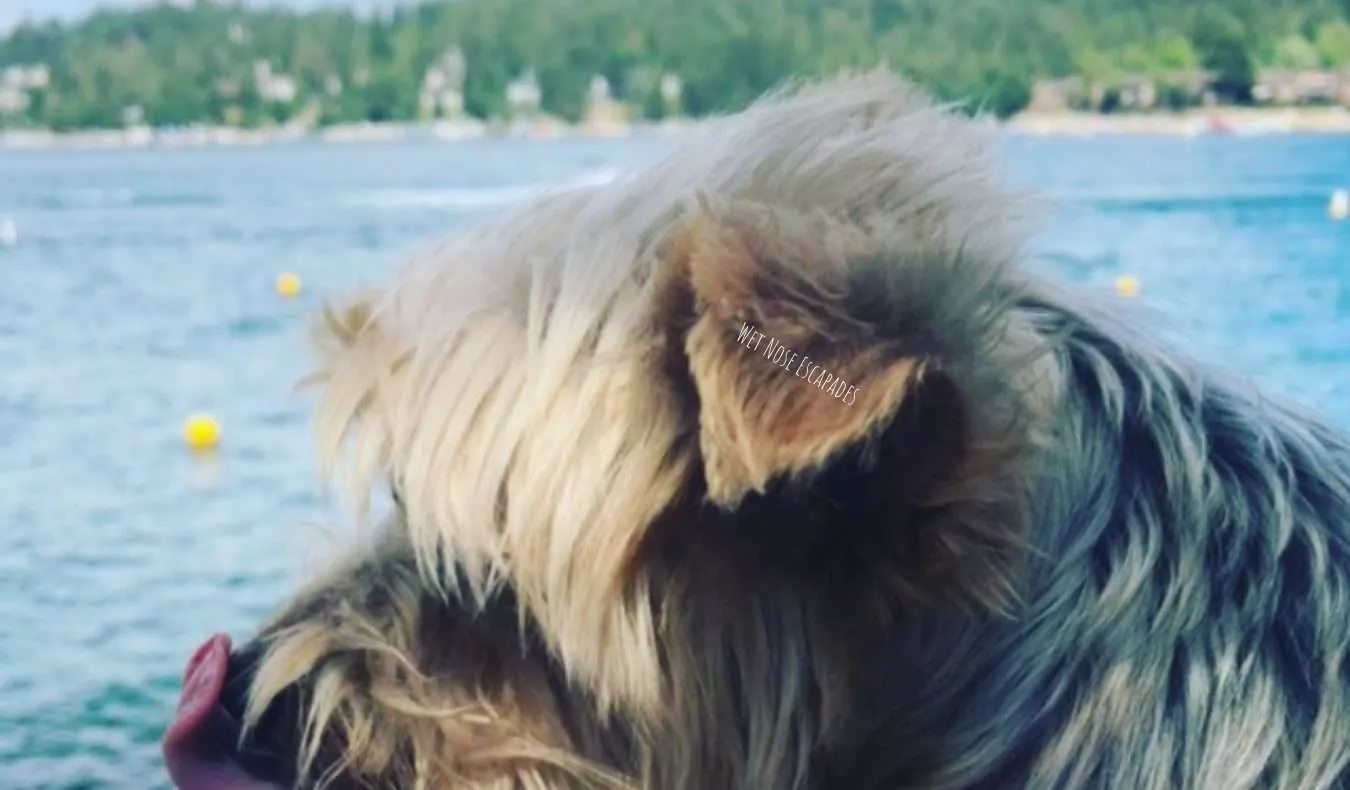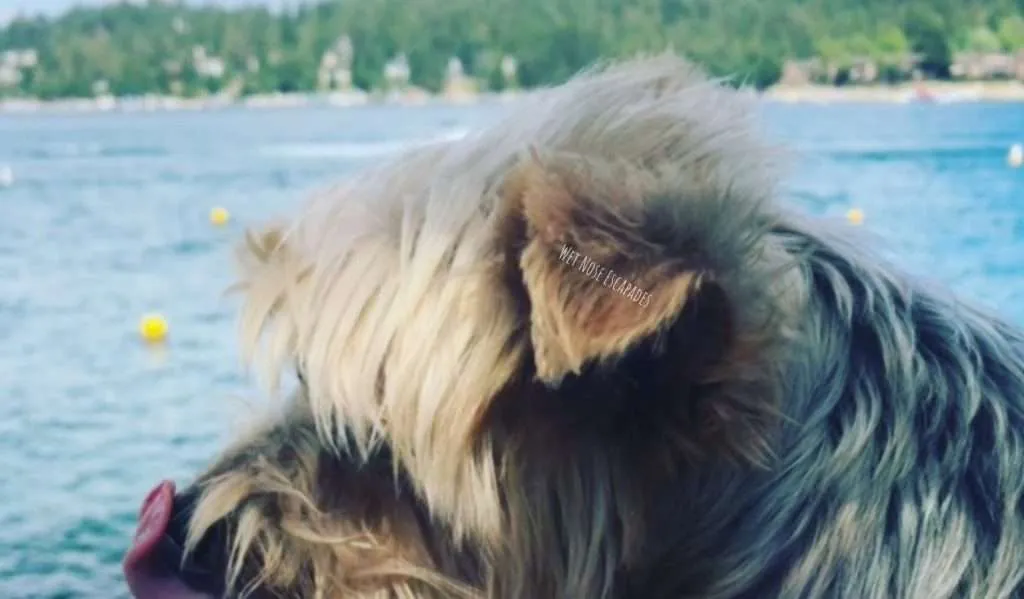 As a world-traveling Yorkie who has set his furry paws on the incredible Swiss Alps, I recognize some TOP DOG cool mountain ranges when I sniff them. Formerly Little Bear Lake, Lake Arrowhead may not feel as heavenly as the Swiss Alps. However, it is surrounded by the gorgeous mountains of the San Bernardino National Forest and has self-proclaimed to be the "Alps of Southern California." Well, whether or not you agree, it's up to you. Nevertheless, like the Alps, Lake Arrowhead is a dog-friendly destination located approximately 90 minutes (no traffic)/85-miles from LA.
The main commercial area Lake Arrowhead Village welcomes dogs to walk around its waterfront grounds, shop at a variety of retail stores (apparel, books, toys, etc.), and dine outdoors in its many tourist-centric restaurants (from pizzas to Belgian waffles). In the winter, you and your dog can RUFF it up with some snow play (after surviving a rough East Coast winter, my paws will happily pass on that). During the Spring or Fall, you and your dog can make the trek at the 4.6-mile, moderate-level Arrowhead Pinnacles Trail for some panoramic views of the mountain and the Mojave Desert. For small senior dogs like myself, I prefer the easier 3.7-mile Little Bear Creek Trail. 
#4 Santa Barbara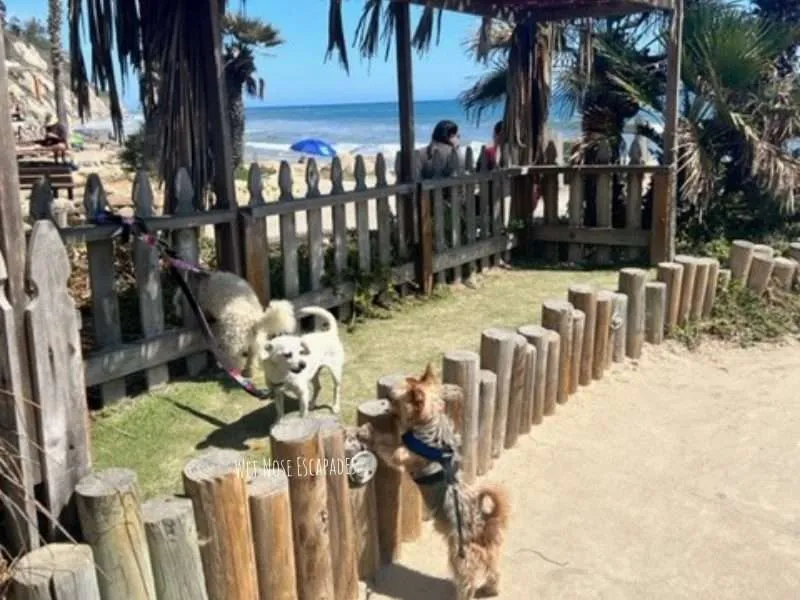 The stunning beach town of Santa Barbara is only located less than 2 hours away from LA (95 miles), making it one fantastic day trip with your dog. Home of the respectable UCSB (University of California, Santa Barbara), Santa Barbara is a glitzy small town with some ARF-mazing scenery – it rests on the California Pacific Coast with the Santa Ynez Mountains in the background. It also showcases Mediterranean-style white stucco architecture from Spanish colonialism. Although there's much dispute over whether it's considered SoCal or Central California, there is one thing I can bark with an upright tail – Santa Barbara is ARF-so-dog-friendly. I can march along the Pacific Coast (there's a wide cement walkway on E. Cabrillo Boulevard with grassy areas), roam lose at Hendry's Beach (one of the three dog-friendly off-leash beaches in the city – the other two are Shoreline Park and Thousand Steps Beach), and walk my tiny paws inside cute boutiques and art galleries in Downtown. Not to bark, I can wine and dine outdoors with such comfortable mild weather year-round.
Is Hermosa Beach, CA dog-friendly? Find out NOW!
#5 Ojai
Northwest of Los Angeles in Ventura County in the Topatopa Mountains lies the small, quaint town of Ojai. Ojai is known for being a spiritual retreat where you can get in touch with nature through a serene landscape with jagged mountains and centuries-old Oak and Sycamore trees. This ultra dog-friendly town about 80-miles/1.5-hours (no traffic) from Los Angeles is where Hollywood stars and Angelenos come to decompress with their dogs. I'm a real sucker for Ojai's famous "pink moment," which happens approximately 13 minutes before the sunset when the sun casts a pink and lavender shade over the Topatopa mountains in Ojai Valley. Hence, the name "pink moment."
Ojai has long been the kind of place where you can exhale all your troubling thoughts away as you pet your precious dog. With dog-friendly hiking trails, boutiques, art galleries, restaurants, and hotels, Ojai is one dreamy dog-friendly escape from reality. From hiking on the 9-mile Ojai Valley Trail (Hwy 33 at Casitas Vista Rd) to going off-leash at Soule Dog Park (1033 E. Ojai Ave) to wandering around the charming Downtown Ojai, my stylish rat tail wags to the endless list of fabulous dog-friendly activities to do here.
#6 Temecula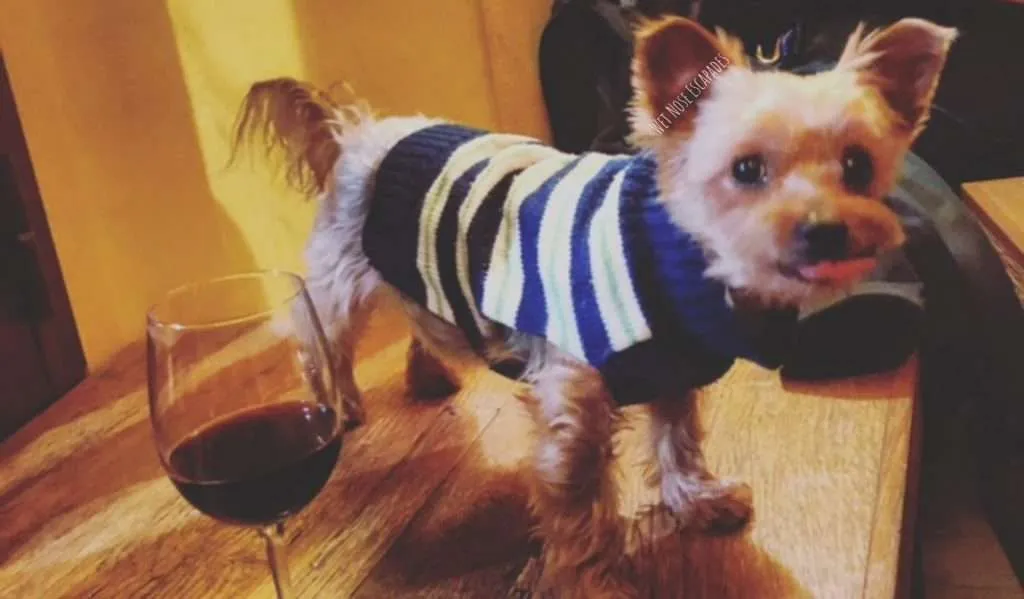 Just 1.5 hours/85-miles from Los Angeles (and only 1 hour from San Diego, no traffic), Temecula is another premier resort destination in Southern California. Situated in southwestern Riverside County, Temecula is known for marvelous wineries, film festivals, and golf courses. For NorCal natives like myself, Temecula is no match for our internationally renowned Napa Valley BUT it's still sniff-worthy with over 50 wineries occupying their gorgeous rolling hills. After all, Temecula is THE wine country for Southern California.
Despite being in SoCal, Temecula is far from "LA-pretentious" – the vibe here is laid-back and casual with a cute dog-friendly old town dating back to the 1800s. You can find an abundance of dog-friendly wineries here; for instance, Gershon Bachus Vintners (37750 De Portola Rd) is known as the most dog-friendly winery in Temecula. This historical family winery welcomes dogs on a leash upon entering the Tuscan-style villa tasting room and allows them to go off-leash once your dog feels comfortable. Dogs are also welcome to walk around the vineyards and grounds. 
#7 Joshua Tree
Coined after the ARF-so-intriguing spike-leafed Joshua trees that are native to the Mojave Desert, Joshua Tree National Park is pawsomely unique to bark the least. AH-HOOO, Joshua trees are not found anywhere in this world which makes them fabulously distinguished. These several hundred-year-old evergreen skinny trees stand 15-40 feet tall with a diameter of only 1-3 feet. Covering both San Bernardino and Riverside counties, this enchanting national monumental park boasts a whoppin' 790 acres! Since it's only a 2.5-hour/131-mile drive from Los Angeles, Joshua Tree is a popular dog-friendly day trip and weekend destination in SoCal, drawing several million human visitors annually.
Dogs must remain on a 6-feet-long (or less) leash at all times and are allowed within 100 feet of roads, picnic areas, and campgrounds. As dog-friendly trails are easy to find, I like to cover my paws with dirt on the trails of Covington Flat and Geology Tour Road. As usual, you must clean up after your dog and NEVER leave your dog unattended (e.g. in the car); otherwise, you could be fined – or worse, your dog can face danger.
Since the temperature in the desert can easily climb up to triple digits, please do your dog a favor and NOT visit the park during the summer or on hot days.
Is Manhattan Beach, CA dog-friendly? Keep on sniffing!
#8 Catalina Island
Santa Catalina Island (or Catalina Island, as everyone calls it) is a quick hour-long ferry ride on Catalina Express from the ports of Long Beach, San Pedro, and Dana Point. Twenty-two miles off the coast of Southern California, Catalina Island is famous for panoramic views of the Pacific Coast, Mt. Orizaba, white sandy beaches, water sports – among many other attractions affiliated with nature. Fortunately, dogs ARE allowed on Catalina Express as long as they wear a muzzle or are transported in a carrier. Please note that only one pet is allowed per passenger.
From cruise ships-centric Avalon to the more laid-back Two Harbors, the best part about this car-limited island is that it's entirely walkable and pedestrian-friendly, which makes for a relaxing dog-friendly day trip. Although some areas restrict access to dogs (Crescent Avenue between Clarissa Metropole, including Avalon public beaches, on Green Pleasure Pier, paved areas on lower Sumner and lower Catalina, and Cabrillo Mole), you will still find plenty of good dog-friendly hikes (Garden to Sky Trail rocks!), restaurants (with outdoor patios), and shops to explore with your dog. 
#9 Southern Orange County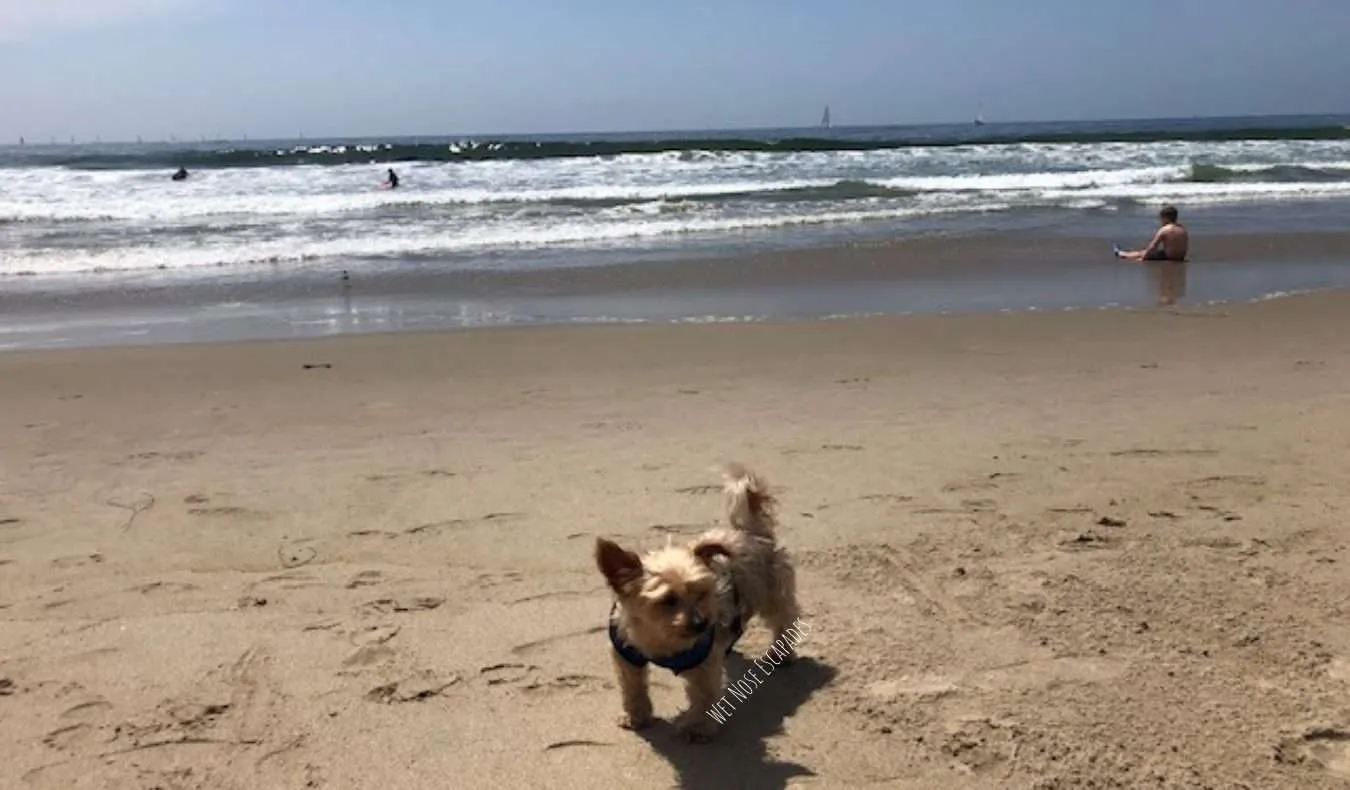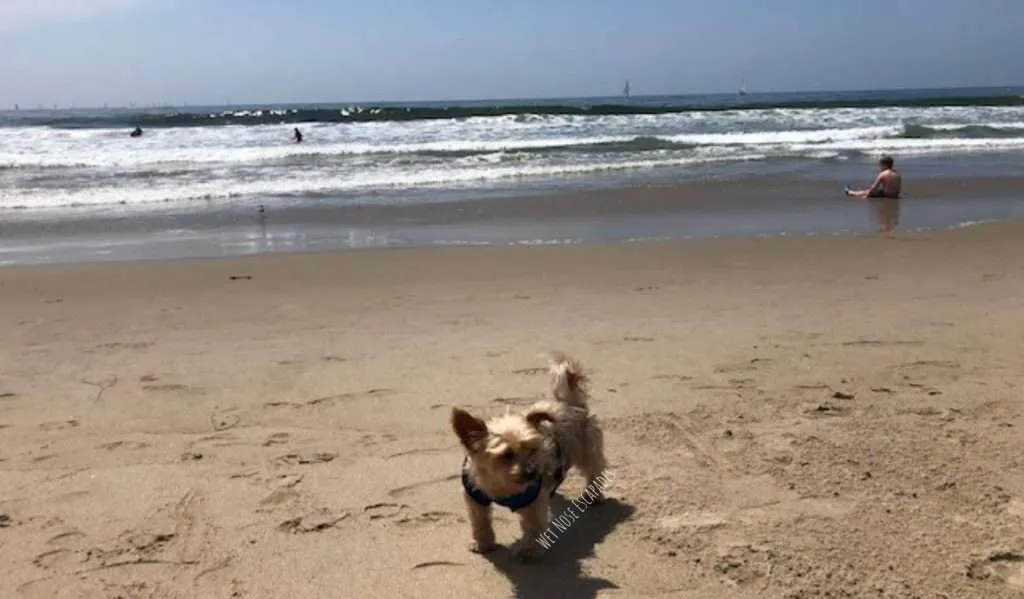 WOOF, southern Orange County or "OC" rocks! While northern OC (such as Anaheim, Fullerton, Garden Grove, Santa Ana, etc.) are geographically closer to Los Angeles, the prestigious cities in southern OC boast head-tiltin' coastlines, multi-million dollar beach homes, and a whole different level of sophistication. Think Irvine, Costa Mesa, Newport Beach, Laguna Beach, and Dana Point among other affluent towns in southern Orange County – all of which are within 60 miles or so away from LA and make a delightful day trip with bountiful dog-friendly places to explore with your dog.
OK, so I'm not barking about a specific city but the southern part of the county resting along the ARF-so-beautiful Pacific Coast Highway. From the popular outdoor mall Irvine Spectrum Center (which welcomes well-behaved dogs on a leash) to a plethora of dog parks (ARF-my-dog, Laguna Beach Dog Park is the place to be) to dog-friendly beaches (gotta get my paws sandy at the Dog Beach at Huntington Beach and Corona Del Mar State Beach – dogs are allowed before 10 am and after 4:30 pm) to the dog-friendly Aliso Summit Hiking Trail (29292 Ridgeview Dr, Laguna Niguel), my robust wet nose never fails to find something pawsitive that welcomes my furriness. 
#10 Big Bear Lake
OK, let's bark BIG. After barking out the former Little Bear Lake, it only makes sense to bark out BIG Bear Lake!  Approximately 25 miles from Lake Arrowhead and 97 miles/2 hours (no traffic) from Los Angeles, the premier ski resort town of Big Bear Lake is Southern California's Lake Tahoe (well, much smaller and less renowned than Tahoe). While dogs don't ski, your dog will enjoy wandering around Big Bear Lake Village a.k.a. the town's "downtown," dine outdoors at one of their many dog-friendly restaurants, chase furry butts at Ski Beach Park, venture on a hike on 22-miles of dog-friendly shoreline trail (e.g. Alpine Pedal Path, Woodland Trail), or take a dip in the lake over the summer.
That's right, you heard my howl right – AH-HOOO, dogs ARE allowed in the water at Big Bear Lake; in fact, all of the beaches along Highway 38 welcome dogs who love a good swim. OK, I'm not much of a swimmer myself, but I know plenty of dogs who don't mind getting their hair wet :). If you love some outdoor adventures with your dog in SoCal, Big Bear Lake is THE SPOT!
ARF, hope you enjoy these 10 BEST dog-friendly day trips from Los Angeles! Feel free to share your experience in dog-friendly SoCal with me! BARK AT ME.
Heading to NorCal? I got you covered here!
Markin' it up,
Roger Wellington a.k.a. The Doob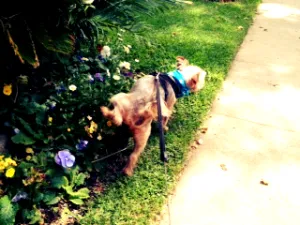 —
Like my post on "10 BEST Dog-Friendly Day Trips from Los Angeles"? CLICK TO PIN!